Carry Your Leatherman Multi-Tool With Confidence: The Must-Have Sheath for Every Working Man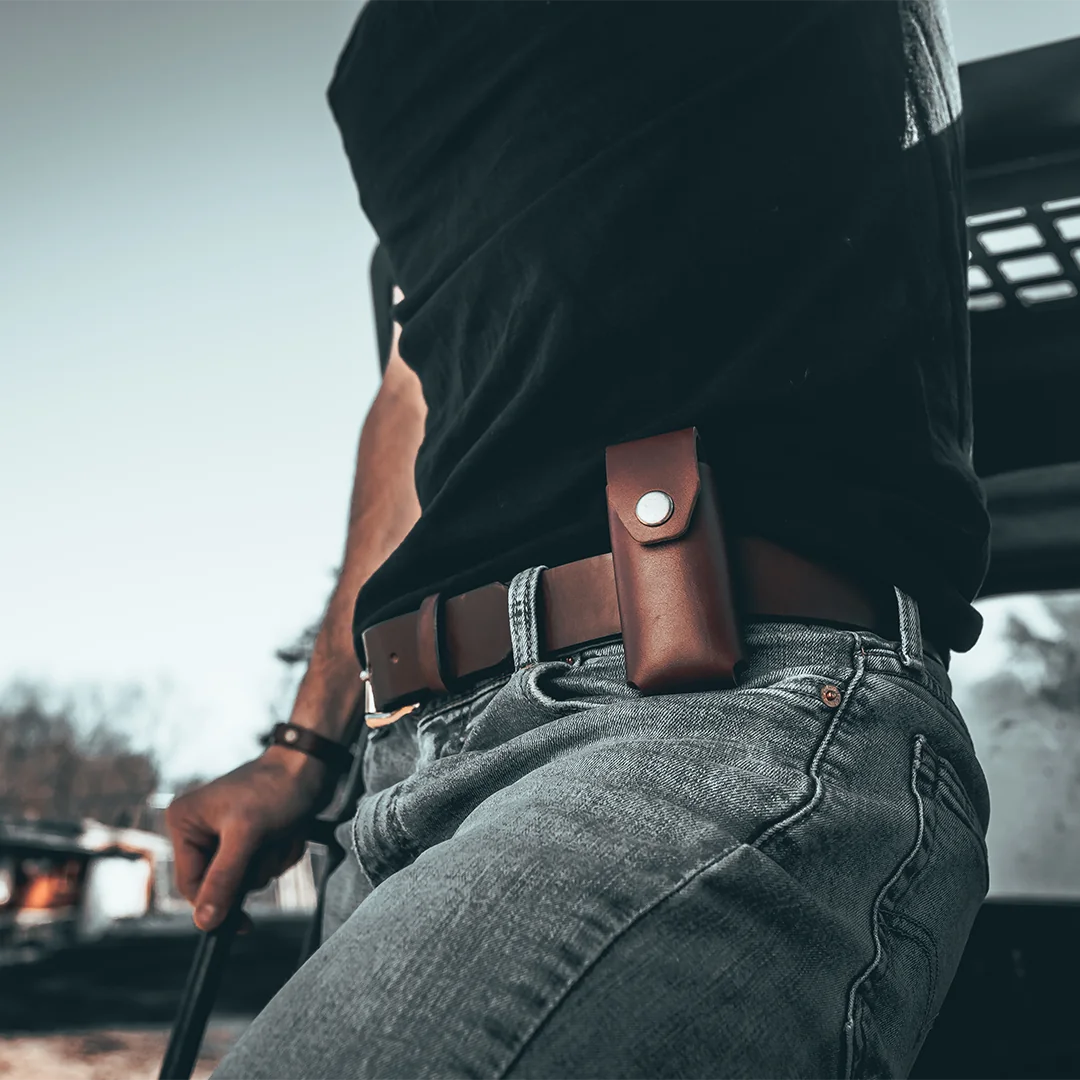 If you rely on a Leatherman multi-tool for your daily tasks, you know the convenience of having it within arms reach.
Why keep digging into your pockets to find it, or rummage through your workbench/tool chest, when you can have it in a leather sheath secured on your belt?
Leather sheaths give you easy access to your multi-tool, allowing you to carry it wherever you go, while also protecting it from scratches and other damage.
If you're seeking a sheath for your multi-tool, that's more durable than nylon ones, then the Leather Sheath for Leatherman Multi-Tools by American Bench Craft is a necessary upgrade.
Our multi-tool sheath has several interesting facts. You'll discover that:
We use only rugged full-grain leather to hand make it
Our sheaths are individually designed to fit over 20 different Leatherman multi-tools
We use rivets in place of stitching to create a stronger bond
Let's see what makes this leather sheath a must-have for every Leatherman multi-tool user.
Rugged Cut, Texture, and Color
The first thing you'll notice about our multi-tool leather sheath is how manly it looks with a design that compliments any workman's tools.
To produce that design, we use the single-piece leather construction technique.
Curious as to how we make a sheath from a single piece of leather?
Instead of attaching two pieces of leather, we fold a single piece and attach rivets on its back, giving it a clean and minimalistic design without visible seams.
With that expert kind of construction, you'll be carrying around a multi-tool sheath that will serve you well.
"...It's made out of a single piece of leather…, riveted, and has a heavy duty snap. This sheath looks great!..." — Brandon W,
For the material, we only use full grain leather to give the sheath a rugged texture. Full grain is the top layer of hide, and the only one bearing original grains compared to other leather grades. 
These other grades include:
Top grain leather
Genuine leather
Split grain leather
Bonded leather 
Full grain leather has natural markings such as scars, stretch marks, and insect bites the animal encountered during its lifetime.
These natural markings are what give the sheath a unique look, and they can't be replicated on faux leather (fake leather).
"...This is the most rugged sheath I've ever seen, and construction is superb. So nice that I ordered new sheaths…." — Michael R,
Additionally, you can select your multi-tool leather sheath from the colors available: We currently have black, brown and tan.
"Purchased two of these, one in brown, and one in black…." — Charles M, 
Another reason leather sheaths look better as they age is because they develop a patina, a rich dark color caused by exposure to the body's natural oil, sweat, dust, and weather elements.
The different elements in the environment that come into contact with your sheath will give it this rich dark color.
You can also choose between brass and nickel hardware. Rivets give the sheath an industrial look that complements tradesmen, mechanics, and other workmen working with their hands.
The table below compares two different types of rivets that can be used with the multi-tool leather sheath.
| | | | | |
| --- | --- | --- | --- | --- |
| Rivet Type | Characteristics | Advantages | Disadvantages | Best For |
| Nickel | Shiny silver | Corrosion-resistant, strong | Not suitable for antique/vintage looks | Modern look |
| Brass | Gold tone | Corrosion-resistant, attractive | Soft, may tarnish over time | Classic look |
What's even better about these rivets is that just like full grain leather, they develop a patina over time. 
So, next time you're working, carry your leather sheath with confidence, knowing that you're sporting a rugged and resilient multi-tool sheath that withstands the harshest challenges without flinching.
Why This Matters: The rugged cut, textured feel, and carefully selected colors of our leather sheath are not just about aesthetics; they also provide practical benefits, ensuring durability, easy grip, and a personalized touch.
It's a Multi-Functional Sheath for Your Multi-Tool
The American Bench multi-tool leather sheath is highly functional. It protects, acts as storage, and provides easy access to your multi-tool.
Protection: You don't have to worry anymore about your multi-tool sustaining scratches or dropping and getting damaged, you'll have it firmly secured on your belt while working.
Versatility: Use it anywhere you want. Whether indoors in the garage and workshop, or for outdoor activities such as camping and hunting. It will serve you well wherever you're working from.
Ease of access: Retrieve your multi-tool easily by simply flipping the sheath open and pulling it out. It's a convenient way, as opposed to rummaging through your pocket trying to find your tool.
Frankly speaking, the American Bench Craft Multi-tool Sheath is the most convenient storage for your multi-tool.
Our leather sheaths are individually designed to fit over 20 Leatherman multi-tools. So, no matter which multi-tool model you have, be assured it will fit.
Some of the Leatherman multi-tools that fit in our sheath include:
Leatherman Wave 
Leatherman SuperTool 
Leatherman Surge
Leatherman Rebar
Leatherman Blast
Leatherman Bond
Leatherman Charge
Leatherman Sidekick
Here is a table that lists different Leatherman tools and their compatibility with our sheath:
| | | | |
| --- | --- | --- | --- |
| Multi-Tool Name | Model Number | Sheath Compatibility | Description |
| Leatherman Wave+ | 832524 | Compatible | The ultimate multitool with 18 tools in one |
| Leatherman Surge | 830158 | Compatible | Ultimate multitool providing quick access to any of its 21 premium tools |
| Leatherman SuperTool | 831106 | Compatible | Referred to as the original workhorse of the Leatherman family and comes inclusive of pliers and a wire cutter |
| Leatherman Signal | 832669 | Compatible | Ideal for outdoor adventures with 19 tools in one |
| Leatherman Free P2 | 832638 | Compatible | Everyday carry multitool with 19 tools in one |
| Leatherman Wingman | 831426 | Compatible | Affordable multitool with 14 tools in one |
| Leatherman Rev | 832127 | Compatible | Compact multitool with 14 tools in one |
| Leatherman OHT | 831642 | Compatible | One-handed multitool with 16 tools in one |
| Leatherman Style PS | 831488 | Not Compatible | Keychain multitool with 8 tools in one |
| Leatherman Squirt PS4 | 831195 | Not Compatible | Mini multitool with 9 tools in one |
You've probably noticed that Leatherman multi-tools come with poor quality leather or cheap nylon sheaths made in Taiwan that don't protect your tool from damage, as other customers have found out.
"I bought this sheath as a replacement for the poor quality sheath that came with my Leatherman Super Tool 300…." — Brandon W,
To solve that problem, get an American Bench Craft leather sheath. Its secure flap will protect your multi-tool from falling and getting damaged.
"...The case closes easily without looking, as the lid is aligned with the closure button. No hunting or missing it…." — Patrick E, 
Cracks? Peeling? Not This Sheath
Our Leatherman multi-tool leather sheaths are designed with durability in mind, that's why we use premium full grain leather and riveted construction. 
Bonus Tip: One way to maintain the sheath's quality is to condition it with leather oil periodically.
We use full grain leather, the strongest grade of leather available. That means your sheath won't crack, tear or peel.
Fake leather, or faux leather, is made from scraps of leather. These scraps are grounded into fine powder then mixed with Polyvinyl Chloride (PVC). The mixture is then sprayed onto a fabric such as cotton to make bonded leather.
The result is a shiny smooth item that looks good on the outside, but shows its true self after minimal use when it starts peeling and cracking.
Nylon sheaths may seem like an effective option compared to faux leather because they don't peel. However, they stretch after a short period of time, preventing your multi-tool from fitting snugly inside.
Another disadvantage of nylon sheaths is that they're held together using stitches, which are prone to disappoint you. Though they promise durability, their reliability soon declines, leaving behind popped and frayed seams.
Why settle for an ineffective nylon sheath when you can upgrade to premium leather that is firm, and will carry your multi-tool for ages?
"Purchased this to replace the nylon sheath that came with my Leatherman Rebar. Quality is far superior to the nylon sheath…." —Matt S,
To hold the sheaths in place, we use rivets, specifically heavy-duty brass rivets, instead of stitching with thread. Stitches create weak points when they snip and therefore are not as efficient as rivets in making the sheath last longer.
"...The sheath is of the highest quality leather and has heavy duty brass hardware seldom found today…." — Matthew,

"...No stitching, only rivets. So you can be sure it won't rip on you. Very happy purchase and fast shipping…." — Jack R,
How Do You Position a Leather Sheath?
While positioning a leather sheath, the most important factors you should consider are how easily you'll access your multi-tool, and whether the position is comfortable, meaning that, position it in a way that prevents the multi-tool from poking you.
We position American Bench Craft leather sheaths vertically (hip carry). It's the most popular position, the others being horizontal and back carry.
In the hip carry method, you'll secure the sheath vertically by passing your belt through the loop on the sheath's back, as shown in the image below.
Rock Your Leatherman Multi-Tool With a Leather Sheath
If you own a Leatherman multi-tool, you need reliable carry that's not only durable, but has a look that matches your kind of work.
Our American Bench Craft Leather Sheath for Leatherman Multi-Tools protects your multi-tool from scratches and other forms of damage, thanks to the high quality leather.
Here is a brief behind-the-scenes video showing how we make the leather sheath.
Our leather sheath also keeps your multi-tool within arm's reach (specifically on your belt) when you're working. How's that for convenience?
Additionally, its look is undeniably appealing. We've cut it to a design that when combined with the rugged look of full grain leather, results in a sheath that suits blue collar workers.
Would you like to make your Leatherman multi-tool leather sheath unique to you? We can customize it with three numbers or letters of your choice.
Grab one or several sheaths from American Bench Craft, available in different colors and rivets. You can also view other sheaths and holsters we've designed for your knives and flashlights.
Share on Instagram:
---