Ready for Anything: 4 Multi-Tool Cases for the Prepared Working Man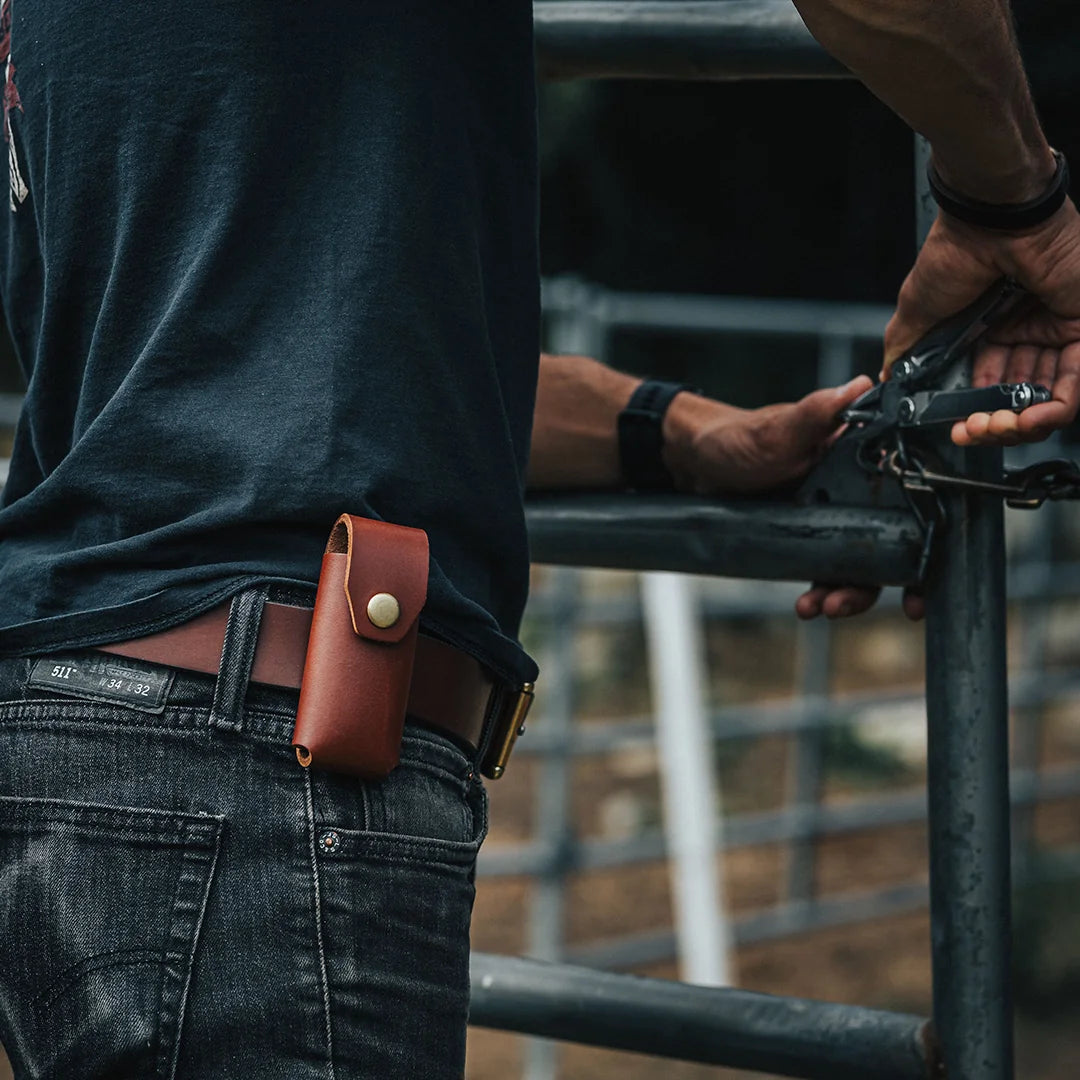 It's a regular Tuesday, the world is buzzing at its usual fast pace, and you, the modern working man, are right in the thick of it. Then, out of the blue, an emergency repair job falls into your hands.
You've got your multi-tools, those compact geniuses that are as versatile as they come. But let's face it, lugging around individual tools? That's a bit like carrying a bag of rocks, and no one's got time for that.
Enter the multi-tool case, your new reliable multi-tool storage solution.
This isn't just about stashing tools, though. This is about nailing that perfect trifecta—versatility, functionality, and durability. And trust me, the plot thickens.
You've got everything from leather cases to all-purpose organizers. Just how do you choose the right tool case for you? We're here to help guide you.
This article will help you:
Gain knowledge about multi-tool cases and what to look for when selecting one
Discover the top 4 multi-tool cases for a working man and their features
Make an informed decision about which multi-tool case to purchase based on detailed information provided
Let's ease into the subject by learning the basics of multi-tool cases.
Understanding Multi-Tool Cases
Let's talk about something we all know and love: multi-tool cases.
Multi-tool cases are like a sturdy, reliable home for your tools. They keep everything organized and protected, and they're designed to handle whatever your work throws at them.
They come in all shapes and sizes, are made from all sorts of materials, and are packed with features to make your life easier. Some of these features include:
Variety of shapes and sizes
Range of materials
Organizational features
Durability
Ease of access
Carrying options
Durable tool sheaths are made of materials like nylon and polyester, making them ideal for rough and rugged usage.
However, leather is one of the most popular materials used for multi-tool cases for the following reasons: 
Durability: Leather is resistant to wear and tear, and it can withstand a lot of use without getting damaged. This is particularly relevant to those in the working community who may use their multi-tools daily in a variety of environments.
Protection: Leather prevents scratches or nicks from occurring on your tools and safeguards them from environmental factors like moisture, dirt, and dust.
Aging: Leather develops a patina with age exposure, making a well-used leather multi-tool case an object of pride.
Functionality: Leather multi-tool cases can be easily opened and closed, and tools are securely held in place but are still easy to access when needed. The flexibility of leather allows for a snug fit for your tools, reducing the chance of them falling out or getting lost.
Consider the tools you have and where you use them. You might need an all-in-one organizer, a heavy-duty case that can handle tough conditions, or a ready-to-go pouch to keep your tools at arm's reach.
Overall, multi-tool cases offer exceptional utility and convenience to the prepared working man. 
Expert Tip: Choose a multi-tool case based on material, features, tool requirements, and durability to ensure the safety and accessibility of your tools.
Criteria for Selecting the Best Rugged Multi-Tool Holders
Consider the following criteria to select the best rugged multi-tool holders:
Material durability: You want something that can take a beating and still look good. Leather cases are a big hit here. 

For example, a construction worker might opt for a brown Leatherman Sheath for their Leatherman Crunch multi-tool. It can handle rough job sites and last for years.


Case size: Next up, size matters. You need a case that can fit your multi-tools. Choosing the correct case for your multitool model is crucial to ensure proper fit.

A handyman who uses the SOG Powerlock would benefit from having a SOG Sheath to carry the multi-tool for different jobs.


Protection level: Your case has to protect your tools. If you're working outdoors, a pouch made with water-resistant or waterproof materials is a must.

Consider a mechanic working in a garage where spills and splashes are common. A weatherproof Victorinox Swiss Army Sheath would keep their Swiss Army Forester safe.


Versatility: You want something with adjustable compartments and pockets that'll fit everything, no matter the size or shape. Roll-up cases or magnetic holders are pretty slick for this.

An electrician, with a mix of screwdrivers, pliers, and wire cutters, would find a roll-up case perfect for keeping all of their tools in order.


Comfort and convenience: Consider how you're going to carry your tools. Do you want a tool belt or a case with adjustable straps or handles?

A roofer, climbing ladders and working on steep surfaces, would find a belt ideal for keeping his tools close and his hands free.
Keep these tips in mind, and you'll snag yourself a multi-tool holder that's as tough as they come—plus you'll be ready to tackle whatever the job throws your way.
Bonus Idea: Look for a multi-tool holder with adjustable straps or handles for maximum comfort and convenience while carrying.
The Ultimate Tool Organization Solution: All-Purpose Tool Organizers
Let's discuss one serious piece of gear: the all-purpose tool organizer. This thing is like the Swiss Army knife of tool cases. 
The all-purpose tool organizer is built to last and comes in all shapes and sizes. Whether you've got a handful of tools or a whole arsenal, there's one for you. 
One of the best things about these organizers is how they keep your gear in check. Loads of pockets and compartments mean every tool has a home, and you'll know exactly where to find it. 
Our Tradesman Tool Tote, for instance, features a large brass zipper opening to the main compartment, two side pockets, and eight gusseted side pockets to keep your tools organized and readily available.
"Love this bag. It fits so much. It's crazy durable and it looks great too (though that's a plus)."
- Dickie L., Verified Customer
All-purpose tool organizers can handle any job you throw at them—carpentry, plumbing, electrical work, you name it. 
When it comes to picking out your organizer, make sure you choose one that's as tough as you are. Look for leather or heavy-duty nylon and check that the zippers and stitching are up to snuff.
A Detailed Overview of Each Heavy-Duty Tool Carrier
When it comes to heavy-duty tool carriers, durability and functionality are key factors to consider. 
At American Bench Craft, we offer a selection of top-quality carriers designed to keep your tools organized and ready for use. Let's take a closer look at each heavy-duty tool carrier from our collection:
1 - Leatherman Sheath
Imagine this—you're out there, maybe fixing a car or setting up a campsite. You need your Leatherman and bam! It's right there on your belt, tucked securely in its Leatherman Sheath. 
The Leatherman Super Tool 300 won't fall out of place—not with this sheath's solid brass snap closure and that sturdy pass-through belt slot.
"First day on the job with this sheath and I'm very happy with it. I can wear it comfortably, it snaps open and closed easily and overall a good looking piece of equipment."
- Adam, Verified Customer
It's specifically designed to securely hold Leatherman multi-tools, providing easy access and reliable protection.
But here's the kicker—we've got over 20 Leatherman multi-tool models to choose from. So, you're not getting a one-size-fits-all deal, you're getting a sheath that fits your Leatherman like a glove. 
This sheath is available in black, tan, and brown with the choice of brass or nickel rivets. Need to personalize your sheath with initials? Just let us know.
Pair the Leatherman Sheath with your long-lasting tool belts and you're golden.
2 - Gerber Sheath
Someone asking for a multi-tool case tough as nails? 
Well, they have to meet the Gerber Sheath. This sheath is built for Gerber multi-tools, and it's as reliable as they come.
Imagine this: you're out in the field, weather's rough, job's tough, but your Gerber's right there, snug in its sheath, ready to roll. And this isn't some flimsy case.
It's all premium full-grain leather, with a solid brass snap closure and a pass-through belt slot. No sagging loops or cheap clips in sight.
Our customers? They'll tell you straight up—these sheaths aren't just functional, they're durable. Your Gerber might give up the ghost someday, but this sheath? It's gonna stick around.
"I kept wearing out the nylon sheaths that come with some of the multitools I have purchased. I found a stitched leather sheath and it worked great until the stitching came loose. Then I found the American Bench Craft riveted leather sheaths and I haven't looked back. I now have six of their leather sheaths and they are great."
- David A., Verified Customer
3 - Victorinox Swiss Army Sheath
Need to make a one-time investment in a versatile and reliable leather sheath?
The Victorinox Swiss Army Sheath is made using durable full-grain leather and riveted construction to provide a snug fit for Victorinox Swiss Army multi-tools. This ensures quick access to your essential tools whenever you need them.
And here's the kicker—you can choose the leather and rivet color that speaks to you, and make it truly your own.
Let's say you're a first responder, and your trusty companion is the Swiss Army Rescue tool.
You go for a black leather sheath with silver rivets. With every call, every mission, it becomes a part of your gear, molded to your belt, holding your Rescue tool snug and secure. 
It's more than just a case, it's your personalized, trusted partner in the field. Now, that's something special, don't you think?
4 - Klein Electrician Sheath
So, you've got a Klein Electrician multi-tool? Well, we've got a sheath made just for you.
Picture this: you're up on a ladder, working on a tricky wiring job. You need your Klein tool promptly, and guess what? It's right there at your side, snug in its sheath. You slide it out, complete the task, and slip it right back in, easy as pie. No fumbling in your pockets, no wasted time. That's the kind of functionality we're talking about here.
If you're a fan of classic looks, go for a brown leather color with brass rivets. Every time you slide your Klein multi-tool in and out of that custom-colored sheath, you'll not only feel how smooth it operates, but you'll also love how it's truly a part of your gear.
No matter which heavy-duty tool carrier you choose from our collection, you can expect high-quality materials, sturdy construction, and reliable performance. 
Top Insight: Look for heavy-duty tool carriers that are made from durable materials and provide ample space for all your tools and accessories.
Want a quick summary? The table below outlines different job types, environments, and the required sheath associated with each scenario.
Ready-For-Anything Tool Pouches: User Reviews and Experiences
When it comes to being prepared for any situation on the job, tool pouches are an essential storage solution. At American Bench Craft, we offer a range of ready-for-anything tool pouches that provide versatility, reliability, and durability. 
Our rugged multi-tool holders, hard-wearing tool sheaths, and all-purpose tool organizers are designed to withstand the rigors of daily use on construction sites and in workshops. 
Users have praised the functionality and durability of our tool pouches as they provide quick and easy access to all your tools while keeping them securely in place. See some reviews below:
Darren J says:
With the convenience of our long-lasting work belts, you can carry everything you need in one place, ensuring you always have the right tool for the job at hand. 
Experience the reliability and versatility of our multi-tool storage solutions and invest in a tool pouch from American Bench Craft to stay organized and prepared for any task.
Versatile Tool Cases for the Prepared Working Man
Are you on the hunt for the ultimate multi-tool case?
Well, let me tell you, versatility is your golden ticket. Why? Because a versatile tool case doesn't just hold one type of tool, it's a whole toolbox you can strap to your belt.
Take a look at the rock-solid leather sheaths we've got at American Bench Craft. They're built to last and just the right kind of rugged.
Imagine heading to a job site and instead of lugging around a bag or box, all your tools are right there at your hip, organized and ready to go. Now, that's what we call convenience.
Our Tradesman Tool Tote all-purpose organizer isn't just tough. It's got pockets, slots, and compartments—a place for everything from your trusty pliers and screwdrivers to your multi-purpose knives.
Choose our versatile tool cases. They're an investment that'll prepare you for anything, and that's what being a working man is all about.
The table below showcases a few other examples of multi-tool cases available at American Bench Craft.
---