5 FAQs About Leather Dog Collars: What You Need to Know Before You Buy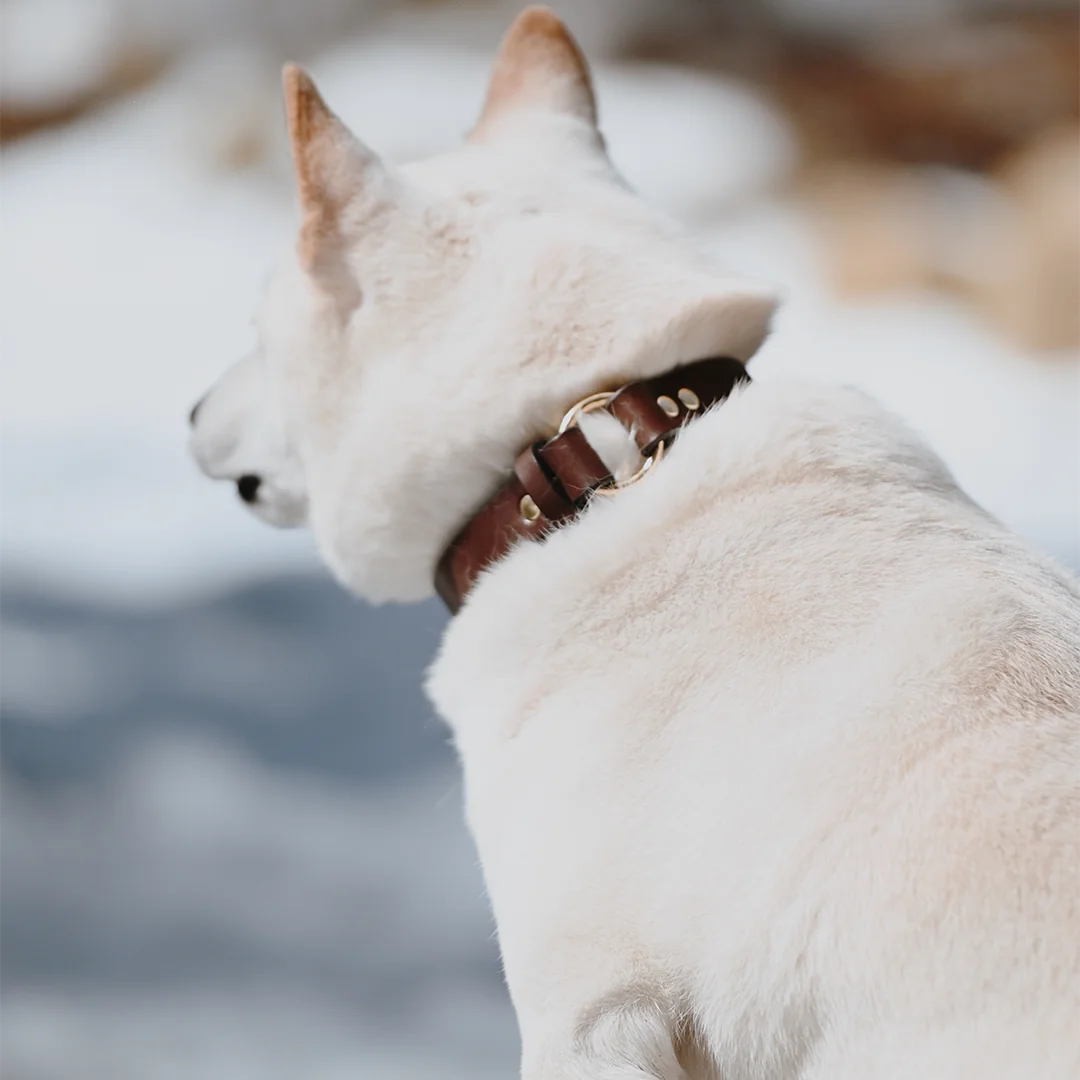 Your pup is always happy to see you, they never judge you, and they love you more than life itself. They deserve the best from you.
That's why you should get them a collar made with the same premium full grain leather used to make our popular belts! Stylish and durable enough for the everyday rigors of zoomies in the backyard, chasing squirrels through the woods, or a leisurely walk in the neighborhood. 
As a dog owner who wants the best for their pup, you probably have plenty of questions about leather dog collars.
Will a leather collar withstand the scratching and biting that goes on during a game of tug-of-war with other canines? Is it safe for the skin on my pup's neck?
Today we'll answer the most frequently asked questions dog owners have about leather dog collars. We'll provide you with valuable insights that ensure you find the ideal collar for your beloved pet.
Here's a breakdown of what we'll also discuss:
The durability, comfort, and other benefits of leather dog collars.
Why accurate neck measurements 

and

hardware options matter when choosing a collar for your dog.

Tips and instructions for cleaning and maintaining leather dog collars to ensure their longevity.
Answers to frequently asked questions about leather dog collars, covering topics such as safety, durability, customization, and sizing.
Let's now dive in and discover everything about these durable leather accessories for your canine companion.
Understanding Leather Dog Collars: The Versatile and Durable Choice
If you appreciate quality craftsmanship, you'll discover the remarkable benefits of leather dog collars and why they're a must-have accessory for your dog.
Leather dog collars come with advantages that make them stand out from other options on the market.
Here are a few reasons why they're the preferred choice of many dog owners:
1 - Leather Collars Have Unparalleled Durability
Durability is an exceptionally important quality to look for since you want your dog collar to withstand the wear and tear that comes from rough play and everyday wear.
Real leather, also known as full-grain leather, is renowned for its strength and long-lasting nature because it's made from the topmost layer of hide that has the strongest fibers.
Full-grain leather can last over five years if the collar isn't subject to abuse or misuse. Some leather collars have been known to last a dog's lifetime when properly maintained. 
At American Bench Craft, we take great pride in crafting long-lasting leather products and our leather dog collars are no exception.
We make them from full-grain leather, vegetable tanned leather, the same leather used to make our heavy duty work belts, meaning they're tough as nails and able to withstand anything that's thrown at them. 
So, when you invest in a leather dog collar, know that you're making a choice that will withstand the tests of time.
"We ordered these collars for our puppies and they have outlasted 5 other collars and are still going strong, they are so worth the money. Not to mention everyone who works there is so kind and helpful. This is our only shop for collars now." — Rania, Verified Buyer
2 - Your Dog Will Appreciate the Comfort They Offer
As a pet owner, you want your dog to look good while also feeling comfortable. Full-grain leather dog collars offer the best of both worlds.
Full-grain is soft and supple, therefore, it molds to your dog's neck within a short time to provide a comfortable fit.
Full-grain leather is "alive" because it has pores. What this means is that leather is breathable and therefore will allow air to circulate around your dog's neck to prevent discomfort.
Leather is also naturally warm, something your dog will appreciate during the cold months. The fact that it has a high thermal conductivity means your dog won't have to bear the discomfort of wearing a cold, metal collar.
"From the center split ring to the engraved info plate, and from the seriously thick full grain leather, to the perfectly-sized leather keeper. This thing is the definition of heirloom quality." — Jason W., Verified Buyer
3 - There's a Collar for Every Dog's Needs
Leather is a versatile material that allows for a wide range of collar designs to suit different tastes and preferences.
Whether you want a simple collar for everyday use or a more secure collar for your adventurous dog, there's one that perfectly complements your pup's personality.
Our Standard Dog Collar is what you need for everyday activities with your dog. It's most suitable for non-aggressive dogs that don't pull the leash.
If you have a dog who's constantly pulling the leash or backing out of their collar, the Martingale Collar has a loop that cinches whenever your dog pulls, and the slight discomfort they'll experience will remind him not to tug.
What if you have a dog that's constantly getting their collar stuck everywhere? Now, for this particular dog you need to get a Center Ring Dog Collar, also known as an O-Ring Collar.
This collar has an O-Ring attached at the center, which is useful when your dog's collar gets stuck and there's a possibility of strangulation. As the dog tries to free himself, the collar will flip over and enable him to back out of the collar, something not possible with other collars.
You can also get a personalized collar for your dog. Personalized Dog Collars are the real deal. They feature a solid brass custom engraved name plate with four lines of text for your dog's name and contact information.
We can't forget small dogs who also like to look their best! So we made Standard Small Dog Collars and Personalized Small Dog Collars for these little fellows. They can now strut in their rugged leather collars and feel just as tough.
Each collar is meticulously handcrafted using time-honored techniques passed down through generations. We believe that every dog deserves a collar that reflects the care and dedication put into its creation.
So, if you're seeking a collar that not only withstands the demands of an active lifestyle but also makes a statement, look no further than leather dog collars. 
Once you experience the quality and durability of a leather collar, you'll understand why they are the ultimate choice for pet owners who appreciate both function and fashion. 
The table below provides a quick reference for different types of leather dog collars, highlighting their distinctive features and which type of dog behaviors they are best suited for.
Finding the Perfect Leather Collar: A Guide to Choosing the Right Fit for Your Dog
When it comes to leather dog collars, there are a few things you need to consider to ensure you find the perfect fit. 
You want something that not only looks good but also fits well to ensure your dog is comfortable. We'll now show you how to find the ideal fit for your companion.
Pick the Right Collar Size
You wouldn't wear shoes that are too tight or too loose, and the same goes for your dog. It's crucial to measure your pup's neck accurately to find the right collar size.
To do this, use a flexible tape measure, but if you don't have one, use a string then transfer the measurements to a ruler.
Measure the circumference around your dog's neck where you (or your dog) prefer the collar to sit. This could be the base of the neck, the middle, or the upper neck.
You want it snug enough to stay in place but not too tight to restrict their movements or cause discomfort. So, if your dog's neck measures 15", pick a 15" collar.
American Bench Craft collar sizes for Large Breed Dogs range between 15" to 28" while sizes for small dogs measure 8" to 15".
Settle for Nothing Less Than Full-Grain Leather
Don't settle for anything less than the best, and that includes your dog's collar. Full-grain leather is the way to go. It's the highest quality and most durable type of leather out there.
Here's a comparison of full-grain leather vs other leather types.
| | | | |
| --- | --- | --- | --- |
| Leather Type | Characteristics | Pros | Cons |
| Full-grain Leather | Highest quality, natural markings, durable | Exceptional strength, long-lasting, develops a patina with age | Higher price point, may require break-in period |
| Genuine Leather | Lower quality, processed, may have imperfections | Affordable, available in various styles | Less durable, prone to cracking and peeling |
| Synthetic Leather | Artificial material, lacks the natural characteristics of leather | Budget-friendly, cruelty-free option | Less durable, may not develop patina |
Our leather products are crafted with full-grain leather that can withstand wear and tear, making them perfect for your active buddy.
Sturdy Hardware That Resists Breaking
Pay attention to the hardware.
Look for sturdy D-rings, buckles, and rivets that can handle the leash and ID tags without bending or breaking. 
Our leather collars are built to withstand the adventures of your four-legged companions, thanks to the full-grain leather and sturdy, solid brass hardware we use. You no longer have to worry about stitches unraveling on your pup's collar.
Riveting, on the other hand, forms a bond so strong that it can only be taken out with the help of a tool. This secure bond ensures your dog's collar will last for years to come.
Historical Fact: In the Victorian era, dog collars became more of a fashion statement, often adorned with intricate designs, jewels, and precious metals to showcase the owner's wealth and status.
Keeping Your Leather Dog Collar Pristine: Cleaning and Maintenance Tips
Now that you've invested in a high-quality leather dog collar, it's essential to know how to keep it looking sharp and in tip-top shape. 
With a little TLC, you can ensure that your pup's collar remains comfortable and ready for any adventure.
Here's how to take care of your dog's leather collar:
Regular cleaning: Just like your dog needs to take a bath, so does a leather collar. Gently wipe it with a damp cloth and leather cleaner to remove dirt or grime that accumulates during your dog's outdoor escapades.
Leather Conditioner: Leather, like our skin, needs hydration to stay supple and prevent drying out. Apply a high-quality leather conditioner, such as our Last Stand Leather Balm.
This balm contains triple-filtered beeswax, seed oils, and tallow to protect, restore, and waterproof your dog's leather collar.
Avoid water exposure: While leather is durable, it's not a fan of excess moisture. Remove your dog's leather collar before swimming or playing in the rain to prevent moisture from seeping in.


If the collar does get wet, pat it dry with a soft cloth then let it air dry completely before putting it back on your pup.

Storage: When your dog is not wearing their leather collar, store it in a cool, dry place away from direct sunlight. 
"I have been buying my leather conditioner from American Bench Craft for about 5 years and this product is phenomenal… It conditions leather and does an excellent job protecting leather from the elements." — Christina M., Verified Buyer
Remember, proper care and maintenance are essential to preserve the beauty and durability of your leather dog collar.
By following these tips, you'll ensure that your pup's collar not only looks fantastic but also stands the test of time.
Key Takeaway: Ensure your leather dog collar's longevity and appeal through regular cleaning, conditioning, avoiding water exposure, and appropriate storage.
Your Burning Questions Answered: FAQs About Leather Dog Collars
As a dog owner, you likely have some burning questions about the safety, maintenance, and lifetime of leather dog collars. 
We'll address some of the most frequently asked questions to help you make informed decisions before buying a leather dog collar.
1 - How long will a leather dog collar last?
A well-crafted leather dog collar made from full-grain leather can last a dog's lifetime if well maintained.
2 - Are leather dog collars safe for my dog?
Absolutely! When properly fitted, leather dog collars are a safe choice for your pup. To ensure safety, measure your dog's neck accurately so that the collar isn't too tight that it chokes them or too loose that it slips off your dog's neck.
If you're concerned that your dog is too active and might get snagged somewhere, get them a Center Ring Dog Collar that will help them break away.
3 - Can I use a leather conditioner on my dog's collar?
Yes, you can. Applying a conditioner such as Last Stand Leather Balm which contains beeswax, seed oils, and tallow will help keep the leather supple, prevent drying, and extend the life of the collar. Just make sure to follow the manufacturer's instructions.
4 - Can I use a leather dog collar for training?
Leather dog collars are versatile and can be used for various training purposes. However, it's important to consider the specific needs of your training routine. For example, if you want more control, opt for a collar like a Martingale Dog Collar that cinches when your dog pulls.
Safety Tip: When training your dog, ensure the collar fits properly to prevent discomfort and potential distractions. You should be able to fit two fingers between the collar and your dog's neck.
5 - What should I look for when buying a leather dog collar?
Size: Ensure the collar fits your dog comfortably, with enough room for growth.
Quality of leather: Opt for high-quality materials like full-grain leather for durability.
Hardware: Choose sturdy hardware that can withstand your dog's activities.
Design: Select a design that suits your dog's style and personality.
Enhance Your Dog's Safety and Comfort With American Bench Craft Leather Dog Collars
Choosing the right collar for your dog is crucial for their comfort and safety.
American Bench Craft is a trusted source of exceptional leather craftsmanship. You'll find an array of high-quality rugged leather products that go beyond dog collars, such as leather belts, leather sheaths and holsters, leather wallets and journals, and other accessories. 
Our commitment to leather durability is evident in our products. So, explore the world of leather dog collars, unleash your pet's style, and enjoy the unmatched combination of comfort, durability, and aesthetic appeal that only leather can provide.
The table below offers a glimpse of the available dog collars at American Bench Craft. Visit the collection page for more options.
---