DIY Approved: Top 6 Leather Wallets for Men Who Love Working With Their Hands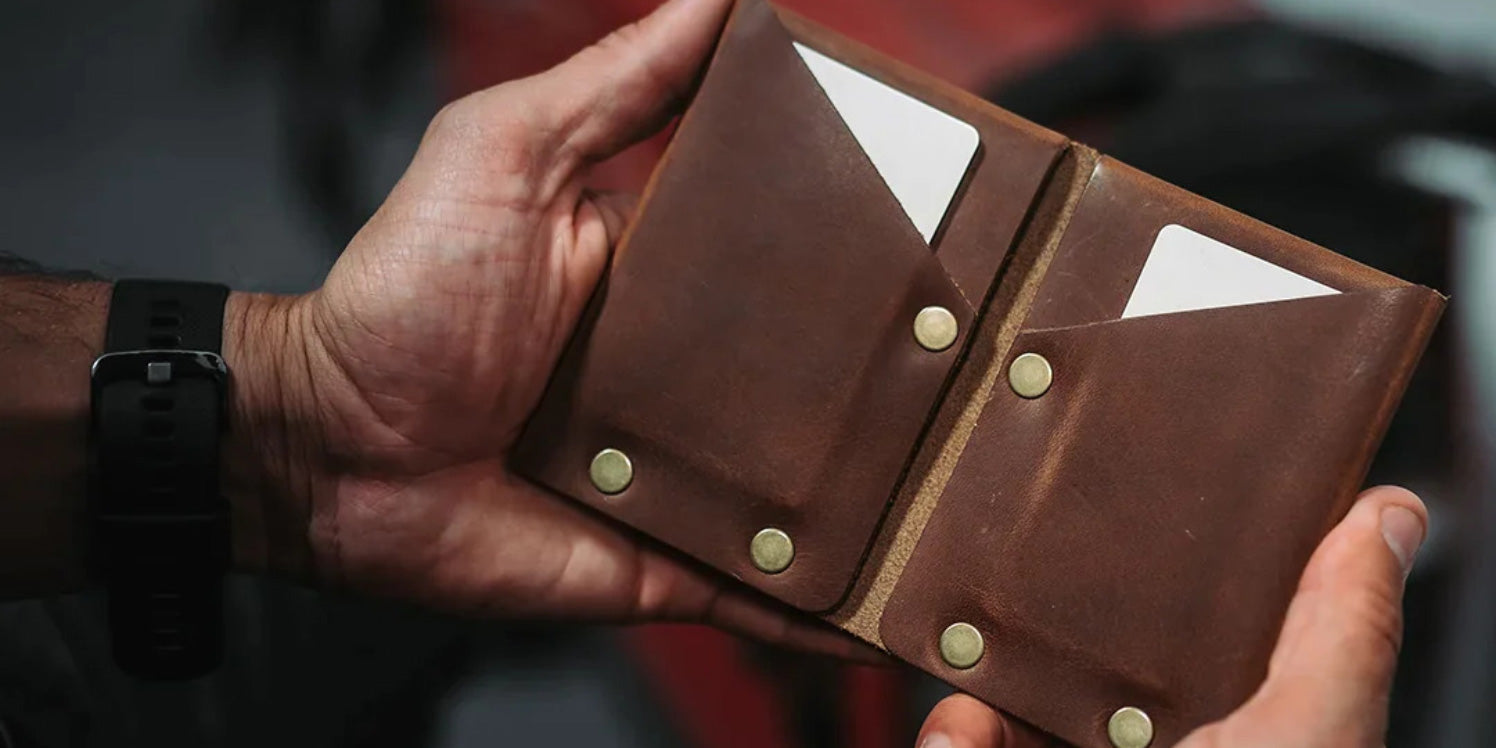 If it were not for our love and enthusiasm for DIY, we're not sure if American Bench Craft would exist today. It was our first DIY project in our parents' garage—a rugged riveted leather wallet—that opened doors to the construction of the many leather accessories we have today.
As DIY enthusiasts, we know the struggles of finding the perfect leather wallets that can withstand the rigorous nature DIYing demands. That's why we decided to make the products ourselves! 
At American Bench Craft, all our leather wallets are designed with the DIY enthusiast in mind. The best wallets for DIY lovers must be heavy-duty, capable of withstanding pressure, dust, or even mud. Our rugged wallets provide nothing less, as you shall soon find out.
In today's article, we'll dive deep into the world of these durable leather wallets made especially for men like us who enjoy working with their hands, creating, and getting things done. 
Here you'll learn: 
What makes full-grain leather wallets the perfect choice for DIY enthusiasts
The best six leather wallets that are DIY approved
Why American Bench Craft handmade leather wallets stand out from the rest 
So, grab your tools and join us as we explore the world of these leather accessories for men that complement our passions and showcase our rugged style. 
What Makes Rugged Leather Wallets Stand Out
A great wallet for the busy DIY man is more than just a way to hold his cards and cash. It's one of the few everyday carry accessories he trusts to secure his essentials amidst the daily wear and tear the wallet is subjected to. 
When choosing the perfect wallet as a DIY enthusiast, you need a companion that can keep up with your rugged lifestyle and showcase your love for craftsmanship. 
That's where rugged, handmade leather wallets truly shine. They're designed to be tough and reliable, with meticulous craftsmanship that makes them stand out from mass-produced leather wallet designs.
We're strongly convinced that rugged leather wallets are the best choice for the gentlemen who enjoy working with their hands, and for valid reasons:
1 - They're Exceptionally Durable to Withstand the Demands
Leather is renowned for its exceptional durability, making it perfect for the demands of your DIY projects. 
Rugged leather wallets are made with full-grain leather, the highest quality leather grade available that's derived from the topmost layer of the hide, which is the toughest and most durable.
Full-grain leather wallets are unpolished. Their fibers are not compromised through sanding or coating, as is the case in lower leather grades like bonded and corrected grain leather, ensuring maximum durability.
These wallets are known for their top-quality construction, can withstand the toughest of environments, and last for years to come.
Rugged leather wallets, crafted to embrace the wear and tear of your hands-on adventures, offer unmatched longevity.
2 - They're Highly Practical and Functional
Leather wallets for men are highly functional tools to keep your essentials organized. With well-designed compartments and card slots, these wallets provide easy access to your cards, cash, and IDs.
The robustness of leather ensures that the durable wallets can handle the weight of your tools and gear without losing their shape or structure.
Quick Tip: To maintain your rugged leather wallet, avoid excessive moisture and clean it with a damp cloth. Regularly condition it to keep the leather soft and prevent cracking.
3 - They're Designed With Longevity in Mind
As DIY enthusiasts, we appreciate the value of items that age gracefully and tell a story over time.
Full-grain leather wallets develop a beautiful patina as they age due to the accumulation of oils, sunlight, wear and tear, and dirt over time. 
This, in turn, darkens and gives the wallets a soft sheen, further adding character and uniqueness to each piece.
Besides, the high-quality materials and leather wallet craftsmanship used during the manufacture of these wallets ensure that they'll be with us through countless projects.
So, whether you're tinkering in your workshop, starting out a new bed project, or simply looking for a timeless accessory that reflects your passion for excellent craftsmanship, rugged leather wallets are your perfect choice. 
The Best 6 Leather Wallets for DIY Lovers
When it comes to finding the perfect leather wallet that complements your DIY spirit and craftsmanship, American Bench Craft has got you covered. 
Our collection of rugged and durable leather wallets is designed specifically for men who love working with their hands. 
Here are our top six picks that combine functionality, style, and exceptional craftsmanship:
1 - Hammer Riveted Wallet
Nine years ago, we launched American Bench Craft with a single product—the Hammer Riveted Wallet. And despite creating more leather accessories for men, this wallet remains our best seller to date.
The Hammer Riveted Wallet is handcrafted from a single piece of premium, vegetable-tanned, full-grain leather that's folded and secured with non-resistant metal rivets. 
The rugged wallet's unique rivet design adds a touch of rugged charm while further enhancing its durability and longevity by ensuring that it can withstand friction and heat better than hand stitching.
The four spacious card pockets (two inside pockets and two easy-accent front pockets) provide enough room for you to hold up to 8 cards and some bills while still maintaining a slim compact design that's easy to carry in your front or back pocket.
2 - Frontier Wallet
The simple Frontier Wallet is for all the busy DIY enthusiasts who know the value of carrying less bulk when at work. 
It's typically a double-sided leather sleeve that provides enough room for just the essentials—a few cards, a piece of identification, and some well-folded cash.
While the handmade leather wallet seems relatively small, it boasts a whopping eight card slots and an additional middle pocket space to hold about 6–8 bills. 
The front pocket, which provides quick access to your most-used cards, can hold up to four cards, while the back pocket holds the remaining four. As for your bills, you can trust the cash strap to secure everything in place even when you're constantly on the move.
This front-carry wallet features a minimalist design with a slim profile for easy pocketability. It will hold all your essentials tightly in your pocket, ensuring that they're safe regardless of your vigorous activities.
"This wallet hits the sweet spot for me. Small-ish but it can carry all my stuff plus build quality is great. I am currently carrying 8 cards and a few bills. It fits nicely in my front pocket." — Mahlon R., Verified Buyer
3 - Bill-Fold Wallet
The Bill-Fold Wallet is a simple wallet with everything you'd expect from a quality, all-in-one sturdy wallet, minus the added bulk.
The leather wallet combines traditional appeal with practical functionality, making it an ideal choice for the handyman who still prefers the look of a traditional leather wallet.
Did You Know? The term 'billfold' came into existence because early wallets were used primarily for carrying paper bills folded in half.
Slimmer than most bill-fold wallets, this sturdy wallet is your ideal front and back pocket company. It boasts enough room to hold multiple card slots (up to 8) and a spacious compartment to carry stacks of unfolded cash. 
The two front pockets have a slot each to display your identification card or your most frequently used card.
Seamlessly transitioning from the workshop to a night out with friends, our simple and timeless billfold wallet ensures that there's never a time you'll feel ashamed of pulling it out when the bill comes.
"I bought a wallet for my husband and it's perfect. Best quality and great because it's made in the USA. Also love the fact it is a family-owned business. Keep the good work up." — Donna H., Verified Buyer
4 - Biker Chain Wallet
The Biker Chain Wallet is an exemplary travel wallet designed for the adventurous DIY enthusiast who enjoys the open road.
Like our other leather wallets, the Biker Chain is crafted with rugged and durable full-grain leather that will develop an attractive leather patina over time, unique to your travels and experiences.
The wallet comes with an optional chain, 16" long, that makes the wallet surprisingly convenient. You can hook the chain to your backpack for added security or attach it to your belt loop for easy access to the wallet when on the move.
The durable wallet is also amazingly roomy, featuring two spacious card slots that can hold up to eight cards and a wide compartment to hold larger documents and unfolded bills.
"Excellent quality. Just what I was looking for to fit cash and my phone." — Jonathan F., Verified Buyer
5 - Ranger Wallet
The Ranger Wallet is a slim and secure, tough leather accessory designed to fit any pocket size without adding unnecessary bulk. 
One of the tiniest wallets in our collection, the Ranger Wallet is a compact and ideal choice for the minimalist DIYer who wants a simple wallet design without compromising on quality and functionality. 
Despite the wallet's relatively small size, it provides sufficient room to safely secure your cash and cards. The front pocket can comfortably hold up to four cards, while the back pocket provides ample space to stack folded cash or four additional cards.
"This is the perfect wallet for a front pocket. It is the right size, well made, and looks great! I am very happy I got it." — Richard B., Verified Buyer
6 - Jefferson Journal Wallet
The Jefferson Journal Wallet is one of the versatile leather accessories for men that's perfect for the DIY traveler who values simplicity, functionality, and convenience.
The sturdy full-grain leather wallet is designed to carry all your essentials to the workshop or field while remaining slim and portable.
It perfectly blends the functionality of a wallet with the timeless appeal of a journal cover, giving you a highly practical two-in-one piece that will hold your cards, cash, passport, writing journal, travel maps, boarding tickets, and more.
The journal wallet features two outer card slots that can hold up to eight cards and two inside pockets that will secure your passport, maps, cash, and other documents.
The journal wallet comes with a complementary Field Notes journal you can use to write down important reminders, notes, to-do lists, and itineraries.
Our handmade Jefferson Journal Wallet is indeed the leather accessory that does it all. Check out our other journal wallet, the Jackson Journal Wallet, to find the one that works best for you.
The table below shows other Leather Journal Covers available at American Bench Craft.
American Bench Craft Wallets: Exceptional Quality and Craftsmanship
At American Bench Craft, we take immense pride in the craftsmanship and quality of our leather wallets. Each wallet is meticulously handcrafted with attention to detail and a commitment to excellence. 
By combining traditional leathercraft techniques with modern functionality, we create leather wallets that aren't just durable but also exude a sense of authenticity and character. 
When you choose one of our wallets, you can expect a product that embodies the highest standards of leather craftsmanship and superior durability. 
Here's why our wallets stand out:
Full-grain leather: Our wallets are made from full-grain leather, the highest quality and most durable part of the hide. This ensures that they'll withstand the test of time and develop a beautiful patina as they age.
Sturdy rivet construction: Rather than stitching or sewing our wallets, we use a special rivet construction technique using rust-resistant stainless steel rivets. This technique firmly locks the leather material together, providing unmatched strength and eliminating the chances of unraveling, as often witnessed with stitched wallets. 
Rugged durability: We understand the demands of the DIY lifestyle, and our wallets are built to endure. The combination of full-grain leather and strong rivet construction ensures that our wallets can withstand the rigors of your workshop or outdoor adventures.
Attention to detail: From the carefully beveled edges to the precisely placed card slots and pockets, our wallets are crafted with meticulous attention to detail. We believe that even the smallest elements contribute to the overall quality and functionality of our products.
Functional design: Our wallet designs are carefully thought out to cater to the needs of DIY enthusiasts. With ample card slots, spacious bill compartments, and additional features like removable chains, our wallets provide both practicality and versatility.
Timeless style: While functionality is key, we also prioritize timeless style. Our wallet designs strike the perfect balance between rugged and refined, ensuring that you can carry them confidently in any setting.
Sustainability Highlight: By choosing a high-quality, durable leather wallet like those offered by American Bench Craft, you're making a sustainable choice. These wallets are designed to last for years, reducing the need for frequent replacements and lessening waste.
Find Your Perfect Companion in American Bench Craft's Leather Wallets
As DIY enthusiasts who love working with our hands, we understand the value of having a reliable and stylish wallet by your side. That's why we offer a range of top-quality leather wallets that are tailor-made for men like us. 
Crafted with full-grain leather and designed with practicality and durability in mind, American Bench Craft wallets are the perfect companions for your DIY adventures. 
From the rugged charm of the Hammer Riveted Wallet to the versatility of the Jefferson Journal Wallet, each wallet showcases our commitment to leather craftsmanship, practicality, and durability. 
Whether you're organizing your tools, heading out to the workshop, or exploring the great outdoors, these quality leather wallets will keep your essentials secure and within reach. 
Any wallet you purchase from us will not only reflect your love for working with your hands but it will also stand the test of time. 
So get ready to embark on your next DIY project with confidence and style, knowing that your essentials are in the hands of American Bench Craft's exceptional rugged leather wallets.
"Craftsmanship is far above expectation. Couldn't be happier to support a business like this one." — Brendan D., Verified Buyer
---