Why American-Made Full Grain Leather Belts are Worth the Investment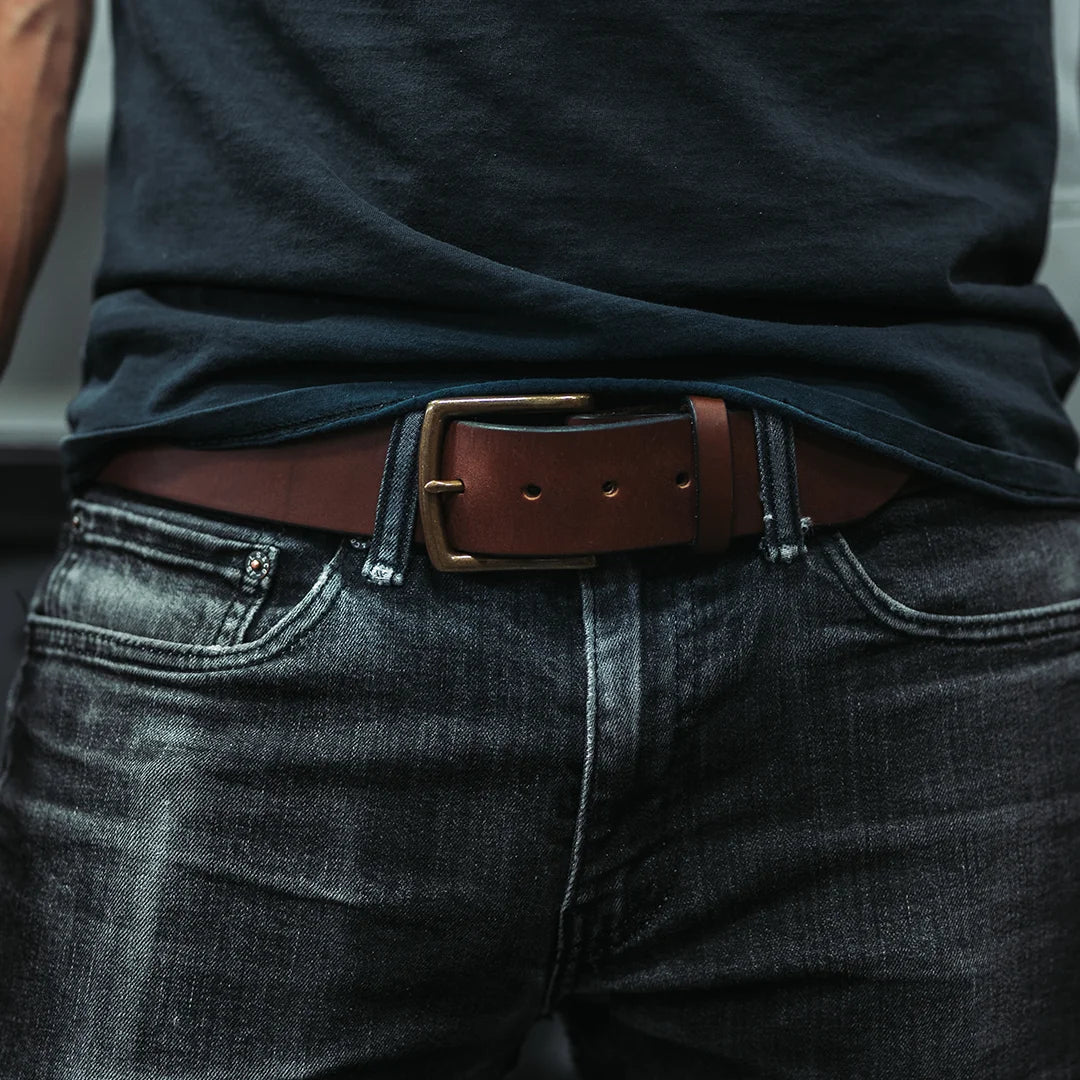 American-made full grain leather is the perfect description of "gets better with age" if there ever was one. It certainly withstands the test of time.
Indeed, for a material used for clothing, shoes, and shelter since the Stone Age, leather remains a heavily relied upon product to date—a true statement of durability and timeless fashion.
It's hardly surprising, then, that the range of leather products has expanded to include home and office goods, like coasters and mouse pads, and everyday items such as:
A top of the line leather product has been full grain leather belts, and for good reason.
Belts are one of the most versatile accessories for both men and women.
They can play a functional role, hidden underneath your clothes, or be an accessory that centers your look. 
The type and quality of belt you wear can also make a strong impact on the rest of your daily wear.
However, finding a real full grain leather belt can be a great challenge in today's market, especially since many manufacturers now create products that mimic as closely as possible the look and feel of real leather.
Fortunately, we have a simple two-step solution. The first step is to understand how to recognize these imitations, which go by various names such as:
Faux leather
Bonded leather
Man-made leather
Genuine leather
Artificial leather
Next, seek out brands that pride themselves in creating a range of superior quality, real leather products. 
At American Bench Craft, our expert team settles for nothing less, and we pride ourselves on making these types of exceptional leather products every day.
In no time, you'll be pairing your American-made full grain leather belt with equally rugged and durable sheaths and holsters to carry your everyday tools.
Below, we share with you the top five reasons why American-made full grain leather belts are worth your investment.
1 - They're Durable and Superior Quality
Full grain leather is the highest quality leather available. It's the top layer of the animal hide, which is the strongest layer, making it hands down the most durable leather available on the market. 
Since full grain leather is real leather in its natural form, its texture and grain remain intact and preserved. No sanding, shaving, or alterations meant to create an artificially clean appearance are made on full grain leather.
As such, this leather isn't weakened by these processes, which is why it ages beautifully. Full grain leather proudly bears the character and "imperfections" that make it unique.
Our American-made full grain leather belts look better over time and last longer than other belts on the market. 
The table below highlights some features that distinguish the full grain leather we use from lower quality leathers.
Feature
Full Grain Leather
Synthetic Leather
Appearance
Unique and natural look, with visible pores and a texture that develops a patina over time
Uniform appearance that mimics real leather, but often lacks its natural beauty
Comfort
Stiff out of the box but will break in and mold for a comfortable fit
Flimsy with no give
Durability

Strong and long-lasting with proper care and maintenance
Can be repaired or refinished

Not as strong or durable as real leather
Prone to cracking and peeling over time, difficult to repair

Reaction to heat

Chars when exposed to heat
Doesn't melt or burn

Melts when exposed to fire
May scald and blister under the hot sun

Cost
More expensive due to its high quality and durability
Less expensive, but may not hold up well over time
2 - They're Made With Unmatched Craftsmanship
American-made full grain leather belts are durable, rugged, and revolutionary due to the unmatched craftsmanship that goes into creating them.
With full grain leather, the manufacturing process requires extreme skill and meticulous labor to identify defects and work around them in an efficient manner. No machine can replace the careful skill and attention to detail required in properly working with full grain leather.
The process of crafting these belts begins with the careful selection of the highest quality full grain leather hides.
The leather is cut into the desired shape and size using a pattern. This requires a high level of skill and precision, as errors in cutting can lead to an imperfect final product.
The attention to detail in the craftsmanship results in a full grain leather belt that's functional, durable, and practical for you. You can reliably use and enjoy this belt for years to come.
3 - They Support American Jobs
As the name suggests, American-made full grain leather belts are made locally. 
Therefore, investing in one of these locally-sourced and made products means supporting American jobs and industry. 
When we started American Bench Craft in 2014 with just a simple leather wallet designed to never fall apart, we knew there was more we could offer.
We desired self-fulfillment in our pursuit of the American Dream, and with relentless determination and hard work, we managed to create a company that continues the tradition of American manufacturing.
By buying our American-made full grain leather belts, you can play your part in supporting the industry through:
Job creation: The belt making process requires skilled workers, from tanners to craftspeople who cut, skive, punch, and rivet the belts. When you purchase an American-made full grain leather belt, you're helping to create and sustain leather industry jobs in the United States. 
Boosting local economies: Since American-made products are typically sourced and manufactured locally, they create a ripple effect of economic activity in the surrounding communities. As such, you support local businesses and contribute to the growth of regional economies by buying American-made full grain leather belts.
Environmental benefits: Full grain leather is a natural, sustainable material that's biodegradable and can be recycled. Choosing American-made full grain leather belts over synthetic or imported leather products can help reduce the environmental impact of the fashion industry and support the use of sustainable materials and ethical production practices. 
4 - They Offer Timeless Style and Versatility
In a time when fashion is so fast-moving, what remains relevant is truly unique. 
The full grain leather belt retains a timeless design, making it a good contender for gifts.
Hint: A leather belt can be a special holiday gift for him on Father's Day, while any piece from our variety of women's belts will thrill your favorite lady.
Jeff's experience is a testament to how you can never go wrong with our gifts for her:
I was looking for something unique … for my girlfriend and I found it in this belt! I love it, and she loves it even more! She gets compliments and inquiries nearly every time she wears it.
The best part is that the natural variations in the leather grain give each belt a unique character and texture that only improves with age.
The high-quality construction of a full grain leather belt makes it a versatile accessory that can be dressed up or down and worn in various settings. It works well with casual wear, such as jeans and a tee, and equally well with dressier outfits like suits or dresses. 
Thanks to the array of hardware and leather widths that these belts come in, there's enough room to fit them with any style and wardrobe. 
The timeless and versatile nature of the full grain leather belt makes it an investment that pays off over time.
5 - They Offer Unbeatable Value for the Price
While American-made full grain leather belts may be more expensive than other belts on the market, they offer unbeatable value for their price. 
Investing in a quality belt means that it won't have to be replaced frequently, saving you money in the long run. Cheaper, lower-quality belts may seem like a bargain, but they'll need to be replaced more often, resulting in a higher total cost over time.
There are several reasons why American-made full grain leather belts offer unbeatable value for their relatively premium price point:
Quality: Full grain leather is the highest quality leather available. It'll last for years. 
Expert craftsmanship: American-made full grain leather belts are crafted with attention to detail. This ensures that the belt maintains its quality and appearance over time. 
Versatility: The belt can be worn with almost any outfit, making it a staple accessory for your wardrobe. 
Made in America: American-made products have a reputation for quality and durability. Buying these products also supports American jobs and the local economy. 
Overall, a full-grain leather belt may cost more up front, but it's likely to be cheaper long-term than other belts that'll quickly wear out and need regular replacement.
Ready for a New Story With Us?
We're confident in our hard work, dedication, and commitment to excellence and guarantee our handcrafted, American-made full grain leather belts for life.
Seeing as all good things come in twos, feel free to check out our wide range of products.
Share on Instagram:
---