Full Grain Leather Wallets: The Durable and Functional Choice for Everyday Use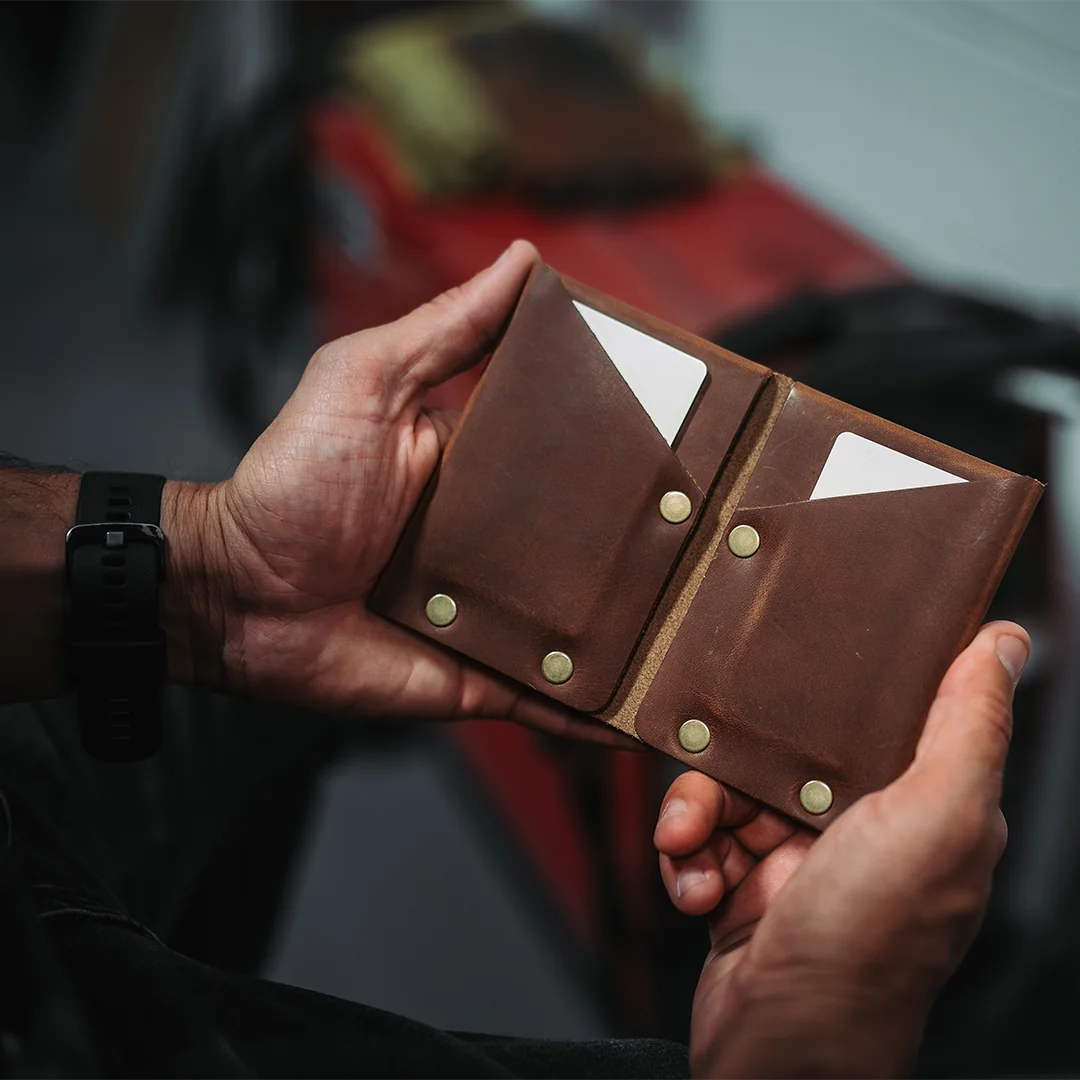 I remember when we made our first-ever leather wallet (at that time American Bench Craft was nothing but a dream!).
The year was 2013. We were still living at our parents' house, and learning the old school techniques of leatherworking.
Like every amateur, the wallet didn't turn out perfect—at least not like the ones we make today—but its durability couldn't be questioned.
Today, almost a decade after our first creation, with tons of leather accessories to show for it, we've still maintained our two core values—creating sturdy and functional products that will stand the test of time.
While our quality craftsmanship has played a major role in achieving these values, the significance of the full-grain leather we use cannot be understated.
Any leather wallet made using full-grade leather and carefully handcrafted to perfection is guaranteed to last. Our full-grain leather wallets are a testament to this. 
If you're in the market for highly functional, tough, and sturdy leather wallets money can buy, we can assure you that full-grain leather wallets are your best bet.
In a moment, we'll show you why this statement holds true, including four different wallet options for your everyday use.
You'll also learn:
What makes full-grain leather wallets extremely sturdy and durable
The functionality and features of full-grain leather wallets
How to properly care for and maintain your full-grain leather wallet
The Unrivaled Strength of Full-Grain Leather
When you ask leather wallet enthusiasts why they prefer leather over other materials like synthetic or cotton, the majority will admit that it's because of leather's rugged durability. 
We couldn't agree more; nothing compares to the ruggedness of full-grain leather. It's the epitome of durability in the vast realm of leather.
Full-grain leather is completely natural and unadulterated. It hasn't undergone sanding, buffing, snuffing, or any form of alteration, preserving its natural characteristics and grain patterns. 
As a result, this leather is naturally dense and tough, with thick and tight-knit fibers that make it highly resistant to general wear and tear. 
It also boasts a significantly longer lifespan, often lasting for decades, making it the optimal choice for long-lasting wallets.
The remarkable durability of full-grain leather can be attributed to many factors:
Minimal processing: Unlike other leather types, full-grain leather is not sanded or buffed to remove imperfections or blemishes, allowing it to retain the hide's natural strength and resilience.
Tight fiber structure: Full-grain leather boasts a tightly packed fiber structure that interlocks, resulting in a cohesive and robust material that maintains its toughness over time. 
Aging gracefully: A unique characteristic of full-grain leather is its ability to improve with age. It develops a unique, rich leather patina that not only enhances its visual appeal but also forms a protective layer, contributing to the leather's longevity.
To better appreciate the durability of full-grain leather, let's compare it to other leather grades. But before that, here's an illustration showing the different layers of the hide where various types of leather are taken.
1 - Top-Grain Leather 
Top-grain leather ranks second in quality after full-grain leather. Even though it's also derived from the topmost layer of the hide, it goes through a sanding process to remove/correct imperfections or natural blemishes.
After sanding, the leather is often treated with dyes, pigments, or other finishes to improve its appearance or provide additional protection.
Due to the sanding process, top grain leather does not always break in and age as well as full grain leather and is generally thinner and more pliable than full-grain leather. 
Here's how this leather compares with full-grain leather as far as durability is concerned:
Grain quality: Full-grain leather retains the complete grain structure, which gives it superior strength and durability. Its dense fiber structure also implies it can resist regular wear and tear, and it can last for decades if well taken care of.


Aging and patina: Over time, full-grain leather develops a beautiful patina, which is a natural change in its appearance caused by wear, exposure to oils, and sunlight. This aging process adds character and uniqueness to the leather.

In contrast, the surface layer of top grain leather is coated, preventing it from developing a patina. And even if it does, the leather generally lacks the same depth of patina as full-grain leather.


Authenticity: Full-grain leather showcases the natural imperfections, marks, and unique grain patterns of the animal hide, adding to its unique charm and authenticity.

Top grain leather, due to the removal of the outer layer, has a more consistent surface with fewer natural markings. Sometimes, it's imprinted with a faux pattern, making it lack the authenticity and genuine characteristics of leather.
2 - Genuine Leather
When we come across a leather wallet labeled "Genuine leather," we often assume that it's made using real leather.
But this is far from the truth. In the leather industry, genuine leather is considered one of the lower leather grades.
This type of leather is derived from the lower layers of the hide that remain after the top grain layer used to make full-grain leather has been separated.
These layers are split and processed through forms such as sanding or dyeing for a more uniform appearance. 
Genuine leather is often treated, stamped, or coated to imitate the appearance of higher-quality leather, such as full-grain or top-grain leather.
In terms of durability, genuine leather is weaker than full-grain leather primarily because it's made from the less durable inner layers of the hide. 
These layers lack the tightness, density, and natural grain patterns found in full-grain leather, making genuine leather to be more prone to tearing, stretching, and wearing out over time.
To get a clearer comparison, let's look at a table that summarizes the key attributes of full-grain, top-grain, and genuine leather.
| | | | |
| --- | --- | --- | --- |
| Attributes | Full-Grain Leather | Top-Grain Leather | Genuine Leather |
| Fiber structure | Dense and tightly packed | Less dense due to sanding | Least dense |
| Aging characteristics | Develops rich patina | Patina development hindered | Little to no patina |
| Durability over time | Remains strong and resilient | Gradual weakening | Prone to tearing, stretching, wearing |
| Authentic appearance | Natural imperfections and grain patterns | Uniform surface, fewer natural markings | Imitation patterns and coating |
The above information covers only a few of the leather grades available on the market. Time will not allow us to discuss bonded leather, split-grain leather, corrected-grain leather, and even faux leather like leatherette and vegan leather, all of which are inferior to full-grain leather.
So why not choose the best of the best of leathers when selecting an everyday carry accessory like a wallet?
At American Bench Craft, we exclusively use full-grain leather to craft our wallets. The natural grain of this leather provides unparalleled protection against wear and tear that often lead to the deterioration of other wallet types.
Our wallets are renowned for their ruggedness and hard-wearing durability. We can't tell you exactly how long they'll last because it also depends on how you use and care for them. 
However, it's not uncommon for full-grain leather products like wallets, belts, and sheaths to be passed down as heirlooms through generations. Our rugged wallets are no exception.
Expert Tip: Choose full grain leather wallets for a durable and personalized accessory that develops a unique patina over time.
The Unparalleled Functionality of Full Grain Leather Wallets
To provide you with a better understanding of the functionality of full-grain leather wallets, it's only right to explain what functional wallets truly entail.
In simple terms, functional wallets are designed and crafted with a focus on practicality and usability while minimizing unnecessary complexity or features.
These wallets prioritize functionality and efficiency in organizing and carrying essential items such as cash, cards, IDs, and other small belongings upholding a minimalist design.
The key features of functional wallets include: 
Sufficient capacity: Functional wallets offer ample storage space to accommodate different types of items. They typically feature multiple card slots, compartments for bills, and additional pockets for receipts, field notes journals, or other small items. 


Easy accessibility: These wallets have strategically placed card slots, allowing you to quickly retrieve and insert cards without fumbling or struggling. Their design allows for smooth and convenient access to frequently used items, minimizing any inconvenience.


RFID Protection: The best functional wallets has RFID-blocking technology to safeguard your contactless credit or debit cards, passport, or other RFID-enabled items from unauthorized scanning or data theft. An RFID-blocking Card acts as a barrier against electronic skimming, ensuring your personal information remains secure.


Slim and compact Design: While offering sufficient storage capacity, functional wallets strive to maintain a slim and compact profile. They're designed to fit comfortably in pockets, bags, or purses without adding unnecessary bulk or weight. The slim design enhances portability and ease of use, making the wallets convenient for everyday carry.


Thoughtful organization: Functional wallets often feature thoughtful organizational features to enhance usability.

This may include designated slots or pockets for specific card types and designated compartments for bills. These organizational elements help keep your items neatly arranged and easily accessible.


Minimalist design: Some functional wallets adopt a minimalist design approach, focusing on simplicity and efficiency. These wallets prioritize essential functionality while minimizing unnecessary features or bulk. They're often sleek, streamlined, and lightweight, offering a minimalist aesthetic and practicality.
The best functional wallets are crafted from durable materials such as full-grain leather.
Full grain leather ensures that a well-crafted wallet is reliable and able to perform its intended function consistently over time. This type of leather enables wallets to withstand regular use and potentially harsh conditions without significant degradation in performance.
Combine leather's durability with the functionality of a well-made wallet, and the results are an irresistibly strong and practical wallet that can withstand anything thrown its way. 
We consider leather wallets more than just an everyday carry item; they're valuable companions that go everywhere with you, carrying your hard-earned cash and most important cards.
That's why we create simple and honest wallet designs perfect for everyday use, using only full-grain leather, whose durability contributes to their long-term functionality and reliability.
Not only are our wallets tough, but they are also lightweight and minimal, ensuring easy portability without adding unnecessary weight or bulk to your daily essentials.
Equipped with multiple card slots and cash pockets, our wallets make it a breeze to organize and carry your essentials in a well-structured manner.
"Well made. The card slots are perfect. Many wallets have a zippered change section which I have no use for. The cash section holds both my bills and a field notebook."
— James H., Verified Buyer
And with regular use, the full-grain leather breaks in and becomes more pliant, allowing for easier access to your cards and cash.
Bonus Tip: Opt for a full grain leather wallet to save money in the long run and enjoy a personalized aesthetic.
American Bench Craft Wallets: Functional Wallets Designed With Durability in Mind
If you're in search of a simple, sturdy, and highly functional card and wallet, American Bench Craft wallets are your go-to choice.
Founded in 2014 by my brother and I with a passion to create top-tier leather products that can withstand the rigors of everyday use, American Bench Craft maintains this dedication to date.
Our leather wallets are meticulously designed with longevity and functionality in mind. Instead of traditional stitching, we use the old school rivet construction with rust-resistant solid brass rivets to securely bind the leather together. 
This distinctive fastening design adds quality and durability to the wallets, ensuring the parts will never unravel at the seams, a common issue with stitched wallets.
Every leather wallet available at American Bench Craft is meticulously designed, crafted, quality-checked, and packaged by hand at our workshop in Wilmington, MA., using American full-grain leather. This guarantees you the highest level of durability and one-of-a-kind craftsmanship. 
With a wide range of wallet styles in our collection, you'll always find something that suits your preferences, ensuring that you never run out of options.
Check out some of the options below: 
1 - Hammer Riveted Wallet
Allow us to introduce to you the leather wallet that started it all—The
Hammer Riveted Wallet
. It was the first product we created after launching American Bench Craft, and has remained our
best-selling piece
to this day.
The Hammer Riveted Wallet combines the features of a standard bifold wallet with those of a traditional minimalist wallet, resulting in a functional wallet perfect for minimalists seeking a simple, well-sized wallet to carry their essentials.
Each rivet is meticulously set into place, creating a secure bond that reinforces the durability of the Hammer Riveted Wallet. 
With four spacious card pockets (two inside pockets and two easy-accent front pockets), this wallet can hold up to eight cards and 10-12 folded bills while maintaining a slim profile that fits comfortably in your pocket or bag.
Here's a quick video that summarizes why the Hammer Riveted Wallet is the ultimate minimalist wallet.
2 - Frontier Wallet
The Frontier Wallet embodies a minimalist aesthetic, focusing solely on essential functionality and streamlined simplicity.
The wallet features a slim profile and clean lines, with compact dimensions of 3" x 4.25" x 0.375" that make it a portable and lightweight choice for those who prefer a minimalist approach to their everyday carry items.
However, don't be deceived by its compact design. Despite its relatively small size, it can conveniently carry eight cards and still leave room for about eight folded bills.
"This wallet hits the sweet spot for me. Small-ish but it can carry all my stuff plus. Build quality is great. I am currently carrying 8 cards and a few bills. It fits nicely in my front pocket."
— Mahlon R., Verified Buyer
3 - Bill-Fold Wallet
Our Bill-Fold Wallet is a classic wallet that appeals to those who prefer a timeless and familiar style. 
It embodies a traditional wallet design that has been popular for decades, providing a sense of familiarity and comfort.
Combining its traditional appeal with practical functionality, this full-grain leather wallet serves as the perfect front and back pocket companion, spacious enough to hold up to eight cards and stacks of unfolded cash.
Despite its generous storage space, the full-grain leather wallet still maintains a slim and compact profile. It's designed to fit comfortably in your pocket without adding unnecessary bulk or discomfort.
"This wallet wears perfectly. The size fits in my back pocket exactly right. The width allows the wallet to be removed but doesn't turn sideways when I am sitting, which makes it comfortable. The design is great. It holds everything I need and the leather wraps around my cards and license with a good grip."
— James G., Verified Buyer
4 - Biker Chain Wallet
Our Biker Chain Wallet is a unique and functional accessory designed specifically for motorcycle enthusiasts and individuals who value a combination of style and utility. 
It's crafted with a rugged and masculine aesthetic, perfectly suited for bikers, adventure seekers, and those who appreciate the freedom of the open road.
The standout feature of the Biker Chain Wallet is the sturdy chain that's securely attached to it.
This chain adds an extra layer of security by allowing you to attach the wallet to your bag or clothing, reducing the risk of accidental loss or theft. You can also attach it to your belt loop for easy access when on the move. 
The functional Biker Chain wallet is also designed to accommodate the essential items you may need on the go. It provides enough room for eight cards and large stacks of unfolded bills.
Note: Each American Bench Craft wallet comes in two versatile leather colors—black and brown, and can be personalized with your own initials to make it uniquely yours.
The table below shows other options for full-grain leather wallets available at American Bench Craft.
"This is the perfect wallet for a front pocket. It is the right size, well made, and looks great! I am very happy I got it."
— Richard B., Verified Buyer
How to Care For Your American Bench Craft Wallet
All American Bench Craft wallets are designed to be hard-wearing and rugged for everyday use.
But even the toughest materials need a little care to maintain their quality and appearance. 
Therefore, to ensure that your full-grain leather wallet lasts as long as possible, we recommend taking exceptional care of it. 
Here are our major tips to keep your American Bench Craft wallet in top-tier condition:
1 - Protect It From Water
While your full grain leather wallet can handle small water splashes on rainy days, it's important to avoid exposing it to excessive moisture or tossing it into the washing machine. 
Prolonged exposure to water can cause the wallet to stiffen, fade, or crack. The harsh chemicals in the washing machine can also strip away the natural oils from the wallet, leaving it dry or prone to wrinkling or cracking over time.
But in case your wallet becomes soaked with water, the first step is to dry it. Begin by wiping its surface with a dry, gentle cloth, and then hang it on a clothesline or set it on a dry, flat surface until it dries.
To ensure your wallet maintains its shape and lays flat when folded, it's important to keep it closed (bifold) while it dries. Once the wallet has been allowed to air-dry for about an hour, you can insert a credit card on each side of the billfold to help retain its shape.
Avoid using a blow dryer or subjecting your wallet to excessive heat, as this can lead to cracking or wrinkling.
2 - Keep It Clean
Dirt, dust, and grime can accumulate on your wallet with use, potentially damaging it or causing it to age faster. 
It's important to gently wipe away any surface dirt or stains as soon as you notice them. Use a soft cloth to wipe the wallet's surface. 
If the dirt or stain has settled in, use a good leather cleaner and a soft brush to gently brush off the stain. Avoid using detergents and baby wipes, as they may contain chemicals that could discolor or damage your leather wallet.
3 - Apply Conditioner Regularly
Cleaning your leather wallet is essential for removing built-up stains. However, to further ensure its longevity, applying a leather conditioner is a preventive measure.
We recommend conditioning your American Bench Craft wallet every six months to keep the fibers in top shape, maintain its softness and suppleness, and bring out the rich patina of the full grain leather. 
Use a high-quality conditioner like the American Bench Craft's Leather Balm, which is specifically designed for full-grain leather. Gently massage it into your wallet, allowing the oil to enrich the leather. 
A good leather cream or conditioner will also help to further waterproof your wallet.
"I have been buying my leather conditioner from American Bench Craft for about 5 years and this product is phenomenal… It conditions leather and does an excellent job protecting leather from the elements."
— Christina M., Verified Buyer
4 - Store It Properly
When you're not using your wallet, store it in a cool, dry place away from direct sunlight or moisture. 
Prolonged exposure to sunlight or heat can dry out the natural oils in the leather and cause it to crack or wrinkle. 
5 - Avoid Overstuffing It
Overstuffing your wallet with too many cards and cash can stretch out the leather grain, and once overstretched, the wallet cannot return to its original shape. 
When you first got your American Bench Craft wallet, you likely noticed how flat it was and how it snugly fit into any pocket. 
To maintain its shape, avoid overstuffing your wallet by regularly swapping out cards and cash as needed. We recommend tidying up your wallet at least every two weeks and keeping only the essentials.
Quick Fact: An overstuffed wallet can ruin the shape of your pockets too, not just the wallet itself. Keep it slim for style and durability. 
American Bench Craft Wallets: The Everyday Carry Full-Grain Leather Wallets You Need
With their functional design and sturdy construction, full-grain leather wallets offer the perfect combination of quality and practicality.
These wallets guarantee longevity and develop a beautiful protective patina that only improves with age, making them a sought-after choice among leather enthusiasts who value quality.
If you're in search of a rugged and durable wallet for everyday use, American Bench Craft has something for you. 
Our wallets are meticulously crafted, undergo rigorous quality checks, and are carefully packaged by hand to ensure that only the finest accessories reach your hands.
We pride ourselves on using only the most robust full-grain leather in its natural and rugged form, ensuring that any wallet you purchase from us becomes your trusted everyday companion for years to come.
Everything from design to sourcing, production, and shipping is done in-house at our workshop in Wilmington, MA. This hands-on approach allows us to guarantee that you're receiving the very best products made right here in the USA.
Browse our wide collection of leather wallets to experience the exceptional durability and functionality of full-grain leather.
"Excellent quality. Just what I was looking for to fit cash and my phone."
— Jonathan F., Verified Buyer
---