Leather Dog Collars 101: A Buyer's Guide to Choosing the Perfect Collar for Your Pup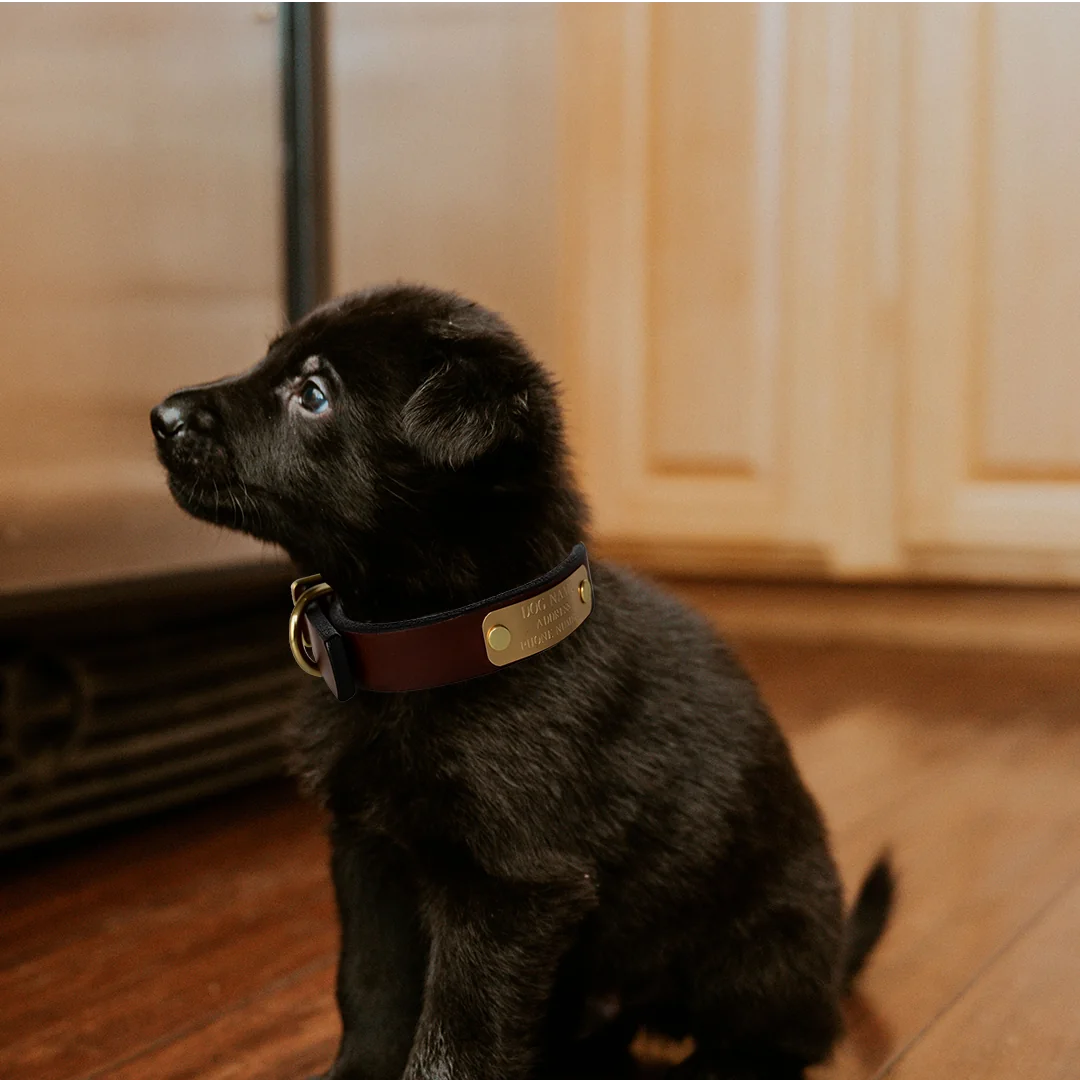 Dog collars serve multiple purposes. They can be used to identify your pets, to restrain them, or as a way of expressing their personality.
Perhaps your dog keeps backing out of their collar and you're in search of a collar that will provides a secure fit. Maybe they're the active type that's always getting snagged on bushes and you want a collar that will prevent strangulation.
No matter their personality, there's a collar for your dog's needs, but whichever you choose, careful consideration is necessary because the result should be a collar that offers comfort and is hard-wearing.
That's why you can't go wrong with leather collars for your dog.
In this buying guide, we'll go into detail on various aspects such as:
Why leather is an unmatched choice for dog collars
Types of leather dog collars and their purpose
How to accurately measure your dog's neck
How to maintain and care for your pup's collar
Without an iota of doubt, leather is unbeatable not only when selecting a collar for your pup, but for other dog accessories as well.
Why Leather Is Ideal for Your Pup's Collar
Whether you prioritize functionality, style, or both, when it comes to dog collars, leather is a popular choice for the following reasons:
Leather Collars Can Last Your Dog's Lifetime
Leather dog collars withstand wear and tear over a long period of time. They handle daily use, exposure to weather elements, and physical stress such as pulling.
We believe in manufacturing top-quality leather products that are designed to withstand the rigors of everyday use.
A leather collar can last five to ten years depending on the intensity of use and how well you care for it. Some even last a dog's lifetime, compared to collars made of nylon or polyester that last months to less than five years.
The durability of leather is due to the fact that it's obtained from the topmost layer of hide known as full grain, which has a fibrous structure that is responsible for its resilience.
This resilience is further reinforced by the tanning process that full-grain leather undergoes. The tannins and other agents added during the process are absorbed by the fibrous structure to give it a rich and robust character.
By choosing a leather collar for your dog, you're prioritizing durability, and you won't have to go through the hassle of replacing collars every few months.
"We ordered these collars for our puppies and they have outlasted 5 other collars and still going strong, they are so worth the money. Not to mention everyone who works there is so kind and helpful. This is our only shop for collars now." — Rania, Verified Buyer
Your Dog Will Enjoy the Comfort of a Leather Collar
Ever bought a synthetic collar that left your dog with bruise marks and you vowed to never let it happen again? Even though not all synthetic collars cause this, your safest bet is a leather one.
Leather is comfortable on your dog's neck due to several characteristics that it possesses:
It's soft and thus pliable: It molds to the contours of your dog's neck to provide a comfortable grip that won't irritate your dog's neck.
Leather has pores: The pores make it breathable, allowing air to circulate around your pet's neck. This prevents moisture buildup that's uncomfortable and causes the collar to emit a bad odor.
It's naturally warm: Leather feels warm and won't leave your dog feeling like he has cold metal around the neck during the cold season.
We make our American Bench Craft dog collars using vegetable-tanned full-grain leather, which means they're breathable, warm, and pliable enough to mold to your dog's neck. 
The rivets we use have smooth round caps that won't scratch your dog's neck but allow the collar to rotate smoothly without snagging on your dog's fur.
The rivets idea came to us in 2014 when we were determined to create wallets that won't fall apart due to weak stitching, so we settled on riveted construction. We're glad we did, for our riveted leather goods never fall apart.
Our collars also have a pin-and-hole closure system that allows for a firm yet adjustable fit for further comfort. Pin-and-hole closure is more secure than velcro or snap closures. 
Leather Dog Collars Have a Unique Appearance
Full-grain leather collars have a timeless look that transcends other dog collars made of inferior materials such as nylon.
The reason is that full-grain leather, obtained from the top layer of the hide, has a rugged texture due to the natural grain pattern on the hide.
This unique texture is further heightened by the scars, animal bites, and branding marks the animal obtained during its lifetime. In fact, this unique texture inspired us to come up with a Scarred Range Collection that exclusively features scarred and cattle-branded leather items.
Another factor that contributes to leather's timeless appearance is the rich dark color it acquires over time (patina). Your pup's collar will gradually acquire the shade as it comes in contact with his or her body heat, oils, sweat, dust, and other elements.
A patina is not only a mark of full-grain leather, but years later, it will be a reminder of all the wonderful adventures you've shared with your pet.
Fun Fact: The process of leather acquiring a patina over time is similar to how a bronze statue changes color due to oxidation. It's a natural process that enhances the aesthetic value of the material.
Types of Leather Dog Collars
Is your dog cool and composed such that he only needs an everyday collar, or is he the active type who is constantly pulling the leash? The active one may need a training collar.
Whatever your dog's needs, there's a leather collar for them.
Since all leather collars aren't created equal, this section will help you gain more understanding of each type before making your purchase.
1 - Standard Collars for Everyday Activities
A standard dog collar is the most common dog collar. It was the initial design used 8,000 years ago in Mesopotamia when collars were first introduced to help identify and control dogs.
These collars have a simple design that gives them a minimalistic look. They only have basic hardware such as an adjustable closure and a D-ring for attaching the leash.
A standard collar is suitable if your dog doesn't have training requirements and you only need the collar to attach your dog's identification and a leash.
Our full grain leather Standard Dog Collar is an everyday collar for large dog breeds, and it fits a neck size of 15" to 28".
This collar has a brass buckle, a D-ring, and capped brass rivets with a smooth surface that won't scratch your dog's neck.
If your dog is a small breed, we have the Small Dog Collar, an everyday collar for small dog breeds that fits a neck size of 8" to 15." It has the same features as those in Standard Dog Collar.
Not sure of your dog's neck size? Jump to Choosing the Right Size of Collar for Your Dog.
2 - Martingale Collars for Training Your Pup
Originally, Martingale collars were designed for sighthounds, a dog breed that was used for hunting. This breed has a slender build that causes its head to slip out of the collar, a fact that led to the design of a special collar for slim necks.
Though traditionally used on sighthounds such as Greyhounds and Whippets, this collar is suitable for training any dog that has a tendency to wiggle its way out of a collar.
A Martingale collar has a smaller loop called a control loop. When pressure is applied to the leash, the loop tightens and simultaneously cinches the collar a bit to control your dog whenever he wants to back out of the collar.
Our Martingale Dog Collars are made of full-grain leather with a control loop that cinches when your pup pulls to remind them not to tug. It's the best alternative to choke and prong collars that can physically and emotionally harm your dog.
Do you need a leash to go with the Martingale collar? Each of our leashes is constructed from a single strip of vegetable-tanned, full-grain leather that's double-riveted at all stress points, making it thick and secure enough to hold even the strongest dog.
3 - O-Ring Collars to Facilitate Escape From Entrapment
O-ring collars are also known as center ring or safety collars. They're mostly worn by hunting or herding dogs. They have a ring at the center of the collar that allows the dog to escape if they get caught in a bush or entangled with each other while playing.
The reason a dog can free themselves is because O-ring collars are more flexible than the standard collar. When you observe an O-ring collar, you'll notice that the two straps attached to the ring can move 90o away from each other.
When your dog is caught and tries to free himself while wearing a normal collar, the grip only gets tighter, but with the O-ring, the collar twists and flips over, allowing your dog to pull out his head.
Our Center Ring Dog Collar is the ideal choice if your dogs are active and get dangerously entangled while playing.
You're also assured of their safety if you're in a place where there's a likelihood of their collar getting stuck and you're not available fast enough to free them from strangulation.
Note: O-ring collars should be fitted a bit looser than other collars to facilitate backing out when the need arises.
4 - Personalized Collars for Identification 
Personalized collars are used for identification purposes. Your dog's information and your contacts are displayed so that you can be contacted in case he gets lost.
These collars often feature an engraved metal plate, or they can feature an embroidered patch if the collar is synthetic.
The plates and patches are primarily functional, but they can also be designed in a way that adds style to the collar.
American Bench Craft Personalized Dog Collars are made from full-grain leather and feature a brass nameplate that allows four lines of text (excluding special characters or symbols).
Each of these lines allows a maximum of 24 characters (including spaces), and the text is located at the center of the nameplate.
The nameplate and the other hardware—buckle, D-ring, and rivets are made of brass, so you can be sure that they won't break easily or rust.
Historical Fact: The Romans designed practical leather collars for their dogs, some of which were fitted with spikes to protect dogs from predators.
Choosing the Right Size of Collar for Your Dog
A well-fitting dog collar is key to ensuring your furry friend is comfortable and happy. A collar that's too tight will cause discomfort, and in some cases breathing problems.
On the other hand, a collar that's too loose can slip off or cause irritation as it rotates repeatedly on your dog's neck.
It's important to measure your dog's neck regularly to ensure their collar still fits properly, especially if they are still growing or have gained or lost weight.
Use a flexible measuring tape to take measurements. If you don't have one, then use a string and transfer the measurements to a ruler.
Position the tape measure where you want the collar to sit. This could be at the base, middle, or upper neck. Most likely, you already know where your dog prefers their collar to sit just by observing their comfort level while wearing one.
Here are sizing tips from our American Bench Craft dog collar sizing guide:
Sizing refers to the circumference of your dog's neck, not the total length of the collar.
For proper sizing, measure the exact circumference around your dog's neck, where the collar will sit.
Don't leave "breathing room." If your pup's neck measures 15", choose a 15" collar.
Each of our collars has five sizing holes spaced 1" apart. A 15" collar will measure 15" from the base of the pin to the center sizing hole (third hole).
Remember that the type of leather used also affects how the collar fits. For instance, full-grain leather collars adapt to the shape of your dog's neck better than faux leather, so make sure you're buying a full-grain leather collar.
The table below provides an overview for understanding how your dog's collar size may change as they grow.
| | | | |
| --- | --- | --- | --- |
| Dog Size Category | Puppy (0–6 Months) | Adolescent (6–12 Months) | Adult (>12 Months) |
| Small | 6–10 | 10–12 | 12–14 |
| Medium | 8–14 | 14–18 | 16–20 |
| Large | 10–16 | 16–22 | 18–24 |
| Extra-Large | 12–18 | 18–24 | 22–26 |
Proper Maintenance and Care of Your Pup's Leather Collar
Once you've invested in a high-quality leather dog collar, it's essential to take proper care of it to ensure it lasts for years.
While leather is a long-lasting material, it's still prone to wear and tear over time. Here are some tips on how to maintain and care for your leather dog collar:
Clean the collar regularly: Cleaning is crucial to maintain its appearance and prevent dirt and grime from building up. Use a mild soap or leather cleaner and a cloth. Avoid using harsh chemicals as they will damage the leather.
Condition your collar: The natural oils in leather dry out over time, causing it to stiffen. To prevent this, use a conditioner designed for leather products and apply it sparingly to avoid saturating the material. Our Last Stand Leather Balm contains beeswax, seed oils, and tallow to protect, restore, and waterproof your dog's collar.
Store properly: When not in use, store your leather collar properly. Avoid leaving it in direct sunlight or near a heat source which can cause the leather to warp or fade. Instead, store your collar in a cool, dry place, ideally in a storage bag or box.
Inspect for damage: Regularly inspect your pup's collar for fraying or cracking. If you notice any damage such as warping or damaged hardware, stop using the collar as it may be uncomfortable for your dog. Instead, replace it with a new one.
Investing in a leather dog collar is a worthwhile investment for your dog. With proper care and maintenance, the collar will last for years.
"I have been buying my leather conditioner from American Bench Craft for about 5 years and this product is phenomenal… It conditions leather and does an excellent job protecting leather from the elements." —  Christina M., Verified Buyer
The Perfect Collar for Your Pup Should Be Practical and Functional, and Still Look Good on Them
Choosing the perfect leather dog collar requires research and careful consideration to ensure you select the best for your pup's comfort and safety, while also making a fashion statement.
Leather collars come in various types, whether you want an everyday collar or a safety collar for that one active pup, there's a suitable one for every dog's needs.
It's important that you take proper measurements to ensure that the collar will be comfortable. Also, clean and condition it regularly so that it smells fresh and won't dry out over time.
Opt for American Bench Craft leather collars made from vegetable-tanned full-grain leather. This kind of leather ensures our collars are tough, yet flexible enough for your dog's comfort.
Our mission is to create leather goods that are purposefully designed for your daily grind, and for your dog too. Leather goods that are proudly made in the USA.
Based on your feedback, we've now expanded our range of leather products to include bags, sheaths, belts, wallets, and more, and we still make them by hand.
By taking the time to go through our dog accessories collection, you'll find a combination of practicality, functionality, and style for your pup.
Here is a quick table showing our range of pet gear. 
"Satisfied with the quality of the product. Feels very secure and has a stylish look. Great job and thanks guys." — Ronald J., Verified Buyer
---