Crafted for Life: How to Care For Your Leather Sheath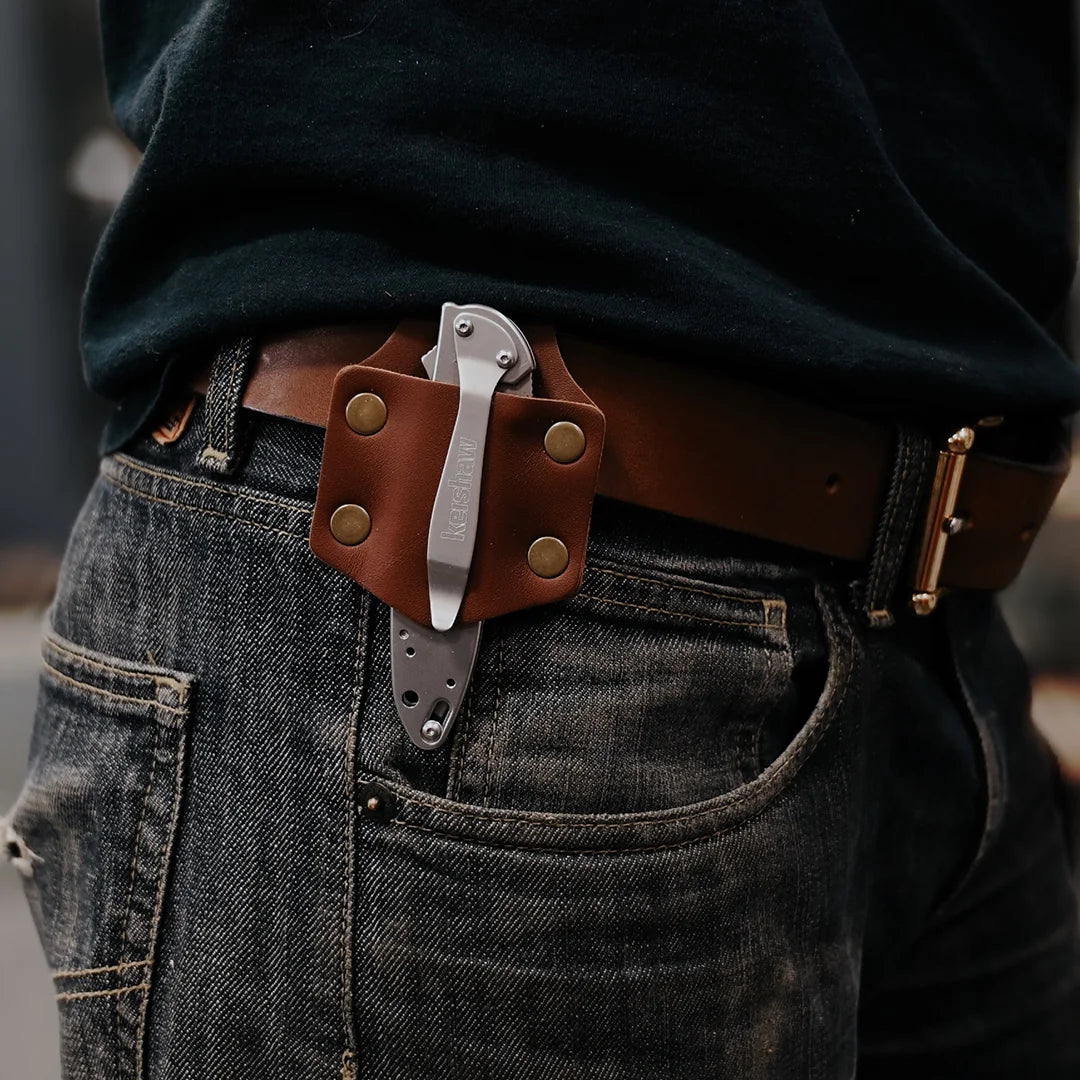 There's a certain rhythm to a laborer's day: the hiss of a pneumatic wrench, the metallic clink of tools, and the feel of the American Bench Craft Leatherman Sheath against your hip.
It's as much a part of your day as your morning cup of coffee.
Whether you're putting out wildfires or coaxing engines back to life, your sheath, holding your essential tools, is your silent partner on every task.
Just like your favorite wrench or screwdriver, it deserves attention and care.
Let's delve into the art and craft of keeping your leather sheath in prime condition, so it can continue being a part of your day-to-day dance wherever you work.
This guide will teach you:
The essential steps for cleaning and conditioning your leather sheath
Proper storage and protection techniques to shield your sheath from potential damage
Effective methods for weatherproofing leather sheaths
How American Bench Craft aligns with the values of skilled American tradespeople
Let's dive in and unlock the secrets to caring for your leather sheath like a pro. But first, a quick look at leather sheaths, what they are, and their features.
The Indispensable Protector: Understanding Leather Sheaths
Leather sheaths are more than just functional accessories; they play a crucial role in safeguarding your cherished knives and multi tools and reflect your appreciation for honest craftsmanship. 
Whether you're out in the wild, just you and mother nature, or at home admiring your collection of shiny sharp-edged beauties, your trusty leather sheath has your back.  
And when it comes to high-quality, tough-as-nails leather sheaths, American Bench Craft stands out for its hard-wearing designs and meticulous attention to detail. 
We take pride in our honest craftsmanship and commitment to excellence. We know a weak link won't cut it—whether outdoors or indoors—so we use premium full-grain leather to deliver a rugged leather sheath with these benefits:
Durability: Our leather sheaths are built to last. Like a seasoned boxer, they can take a beating and still come out swinging. We're talking about the kind of leather that shrugs off scratches, absorbs impact, and resists tears. 
Protection against the elements: A leather sheath is your blade's bodyguard, warding off the harsh elements, stopping accidental nicks and cuts, and keeping your blade secure. 
It ages well: Unlike cheap materials that wear out and look shabby over time, rugged leather develops what we call a patina. It's like the battle scars of the leather world, giving each sheath a unique, weathered look that's full of character.
A firm grip: Our leather sheath will fit your knife like a glove, holding it securely in place even when you're on the move. There's no rattling around or slipping out to worry about—your blade stays put until you need it.
Take a look at the short video below and learn how we make leather knife sheaths.
It's time to get down and dirty with some leather care basics. Let's make sure that your sheath sticks around, looking sharp and doing its job for as long as you need it.
Essential Care Techniques for Your Leather Sheath
Your leather sheath isn't for show, it's a workhorse that's got a job to do.
So you've gotta make sure it's in fighting shape, ready to go the distance. That means keeping it tough, making it last, and, yeah, enhancing its functionality.
Follow these leather care tips to ensure your sheath stays in prime condition, ready for whatever life throws your way.
Cleaning and Conditioning
Pre-clean: Use a soft brush or a dry cloth to brush off any loose dirt or debris from your Estwing Sheath. 
Initial cleaning: Dip a soft, microfiber cloth into warm water and wring out the cloth so it's just damp, not soaking, and gently rub the sheath to lift off any dirt.
Stain removal: If you encounter a stubborn stain, it's time to bring in the reinforcements: a mild leather cleaner made for full-grain leather. Apply it sparingly and gently rub it into the stained area using a soft cloth. 
Rinse and dry: Wipe off any excess cleaner. Then, let the sheath air dry naturally.
Conditioning: Choose a high-quality leather conditioner or balm suitable for full-grain leather, such as our Leather Balm. Apply a small amount of the balm to a clean, soft cloth, and massage it onto the sheath using gentle, circular motions. 
Buff and polish: After letting the conditioner soak into the leather and dry, buff off any excess with a clean cloth. This ensures your sheath will remain supple, shining, and ready for your next outing.
This process doesn't just clean your sheath; it extends its life, much like regular maintenance keeps a vintage pickup truck running for decades. 
"I have been buying my leather conditioner from American Bench Craft for about 5 years and this product is phenomenal… It conditions leather and does an excellent job protecting leather from the elements."
— Christina M., Verified Buyer
Storage and Protection
Proper storage is crucial to maintain the shape and condition of your leather sheath.
First, you must clean and condition it regularly. Then follow these best practices for storing and protecting your multi-tool sheaths:
Avoid extreme conditions: Picture your SOG Sheath as a seasoned outdoorsman who still respects Mother Nature's power. It's not a fan of scorching heat, freezing cold, or excessive moisture. So, stash it somewhere cool and dry, out of direct sunlight.
Give it space: When you're not using your sheath, don't store it with other items. Give it some space to breathe, like a pair of well-worn boots at the end of a long day.
Use a leather protector: Consider using a leather protector spray for extra protection against water, stains, and oil. Ensure it's suitable for full-grain leather.
Store properly: If you're tucking away your Victorinox Swiss Army Sheath for a while, treat it like a prized baseball glove. Wrap it in a cloth or place it in a cloth bag. Plastic bags are a no-go as they can trap moisture.
Keep it shaped: To maintain the shape of your Gerber Sheath, keep the knife or tool it was designed for inside, or use clean paper or bubble wrap to keep its form.
Weatherproofing
Weatherproofing your multi-tool sheath is important, especially if you frequently use it outdoors or in wet conditions. 
Begin by ensuring your leather sheath is clean and dry.
Apply a leather protector or waterproofing spray specifically formulated for full-grain leather to create a barrier against moisture.
Spray the product evenly over the surface of the sheath, holding the bottle about 6–8 inches away. Imagine you're giving it a light dusting of snow, not a full-on blizzard. 
Allow the sheath to dry completely before using or storing it.
With a bit of elbow grease and the right care routine, you can keep your leather sheath in the major leagues for the long haul.
Here's your playbook: Clean it well, condition it well, store it right, and make sure it can stand up to the weather. Do this, and you'll keep your prized sheath looking sharp and standing tough.
Connecting With American Bench Craft
At American Bench Craft, we know our people. We're talking about those who aren't afraid to get their hands dirty, the ones who clock in day after day and put in the hard yards: tradesmen, police officers, firefighters, laborers, and mechanics.
Our products are built with you in mind. We're keen on providing sturdy, reliable gear and use rivets to ensure our products last a lifetime. 
"This belt will be in my family for many years. True quality, craftsmanship, and stylish design. Thank you."
— Kenny R., Verified Buyer
We take just as much pride in crafting our products as you do in your work. And we want you to know that when you're buying from us, you're not just getting a product—you're getting a promise that we've put in the time, effort, and care to make something worthy of a hardworking person like you.
Our expertise extends beyond just providing exceptional products. We strive to create a community where enthusiasts can connect and appreciate the art of leatherwork.
Did You Know? The leather used in sheaths is like a fingerprint. No two pieces are the same due to the unique grain pattern on each animal's hide.
Explore Our Range of Leather Accessories
Any sheath you choose—Gerber Sheath, Leatherman Sheath, Victorinox Swiss Army Sheath, Klein Electrician Sheath, or SOG Sheath—will work well with our leather belts.
The Working Man's Belt is our original and most popular belt and offers ultimate reliability and durability. What's more, it's perfect for work pants and jeans so you can look good and carry your leather sheath around safely.
It's 1.5" wide, made using premium 12 oz full-grain vegetable-tanned leather, which ensures your belt retains its durability and appearance with everyday use. There's no peeling, cracking, splitting, or falling apart. Add a Wide Key Fob to your belt for good measure.
This lets you easily carry keys and has a button snap that allows you to secure the key fob to your belt.
"As a firefighter with a bulky keyring, my keys were always ending up all over the firehouse or truck, especially when it was time to go on a call. With this, I can easily clip my keys to my station wear pants, or radio strap."
— Cait, Verified Buyer
If you have to carry multiple sheaths and holsters, we recommend pairing them with our Brigadier Belt. It's 1.75" wide—our widest and heaviest belt—perfect for those that require a heavy-duty belt.
Our Tradesman Tool Tote is the perfect bag for your tools. It's made with 18 oz water-repellant waxed canvas, heavy-duty cotton webbing straps, and solid brass hardware. 
It also features a large brass zipper opening to the main compartment, two side pockets, and eight gusseted side pockets to keep your tools organized and readily available.
Every joint is secured with tape and reinforced with double stitching, while the bag's base is doubly layered to boost resilience.
The construction, choice of materials, and level of craftsmanship ensure that the bag will withstand intense and rugged use, whether at work, outdoors, or in domestic settings.
When you choose American Bench Craft, you choose exceptional quality and a company dedicated to providing products that are crafted for life.
The table below highlights some of the leather accessories available at American Bench Craft. Visit the collection page for more options. 
Join the American Bench Craft Community
We invite you to connect with us and fellow enthusiasts through our website and social media channels. 
Be the first to learn about new product additions, exclusive line goods, special offers, and informative content about leather care and craftsmanship. Sign up on our website to receive our newsletter.
If you're interested in seeing what's going on behind the scenes, we've got that too. Check out our Instagram Reels and the "How To" tutorials on our TikTok and YouTube channels.
It's a real thrill for us to learn how our leather accessories have become a part of your life's journey. Tag us on Instagram and we'll repost your pictures.
Together, let's celebrate the spirit of outdoor exploration and the enduring allure of genuine craftsmanship. 
Choose American Bench Craft for leather accessories that are as reliable and enduring as your love for your work.
Key Takeaway: Join the American Bench Craft community to receive exclusive offers, sneak peeks, and informative content. Share your journey with our reliable leather accessories on social media, and let's celebrate genuine craftsmanship together.
Caring for Your Leather Sheath: Preserve and Protect for a Lifetime
By following the simple steps in this guide, you can ensure your leather sheath's durability and longevity.
Constructed from full-grain leather and featuring resilient designs, your American Bench Craft leather sheath is a shining example of authenticity and superior craftsmanship. 
A little cleaning, some regular conditioning, and voila! It stays supple, crack-free, and ever-ready for action.
Properly store and protect it, and you've shielded your sheath from the elements, while weatherproofing techniques serve as your armor against moisture.
Our commitment to creating durable leather accessories, especially our top-notch leather sheaths, truly speaks to folks like tradesmen, police officers, firefighters, laborers, and mechanics. They really value the solid dependability and enduring quality of our products.
So, why wait? Our multi-tool sheath collection features a range of products, including the Leatherman Sheath and Klein Electrician Sheath. Rest assured, there's a sheath that will fit your needs.
The table below shows some of American Bench Craft's multi-tool cases. Visit the collection page for more options.
"I kept wearing out the nylon sheaths that come with some of the multitools I have purchased. I found a stitched leather sheath and it worked great until the stitching came loose. 

Then I found the American Benchcraft riveted leather sheaths and I haven't looked back. I now have six of their leather sheaths and they are great."
— David A., Verified Buyer
---